The Consumer Nowcast And The Short-Term Forecast
No new data economic today, but the Fed did publish data last week that allows me to update one of my "alternate" forecast methods, one that I first laid out over a decade ago: the consumer nowcast.
The way this works is to look at the economy from the viewpoint of the average American consumer. In order for the consumer economy to grow, at least one of the three below items must be happening:
1. Real income is growing.
2. A widely held asset class, in particular stocks or real estate, is appreciating (and thus available to be tapped into to free up cash.
3. Interest rates decline to new lows, allowing existing debt to be refinanced.
If none of these are happening, then a pullback in willingness to spend signals the onset of a recession.
Let's take these in reverse order.
Last week the Fed released its household debt data, showing that household debt as a share of income peaked over two years ago. In Q3 2018 households became slightly more cautious compared with the quarter before:
(Click on image to enlarge)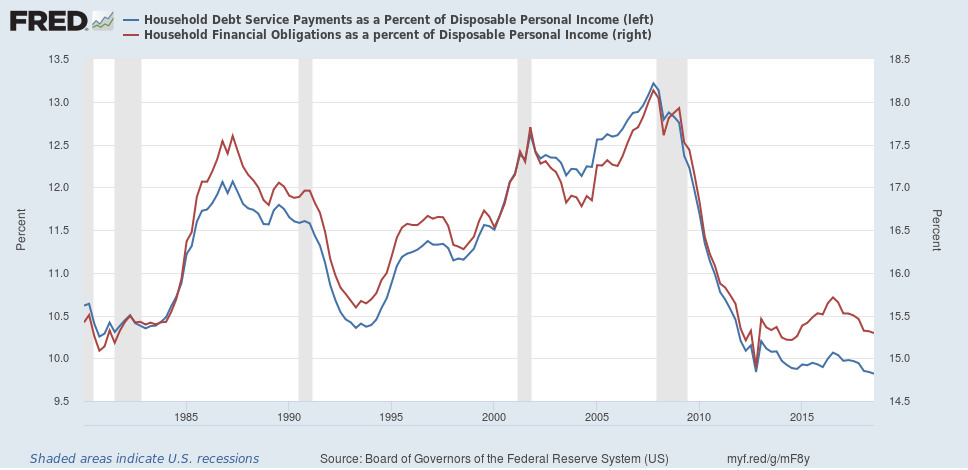 Needless to say, stock prices last made a peak over 3 months ago. That source of cash has dried up.
House prices, however, have continued to climb, according to the most recent Case-Shiller index, meaning that home equity withdrawal remains a potential source of spending money: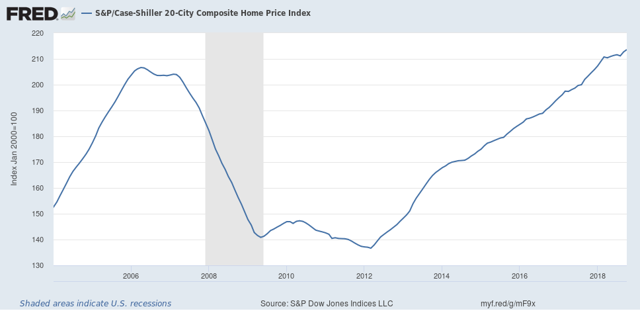 And perhaps most fundamentally, as I wrote about last week, real average and aggregate non-supervisory wages have continued to grow.
So the consumer nowcast is not signaling recession.
Meanwhile, as I wrote last week, the short-term forecast through mid-year is for no a slowdown but no recession, unless caused by poor public policy — like, say, a trade war, or maybe a government shutdown that causes businesses to postpone plans due to lack of transparency.
That sort of policy debacle isn't going to first show up in the long leading indicators and take an entire year or more to filter through the economy. It will show up, more or less, all at once.
This post is not an offer to buy or sell this security. It is also not specific investment advice for a recommendation for any specific person.