The Biggest Tail Risk
Big Factor Change
The Bank of America fund manager positioning measurement in March 2021 versus history is a lot different than it was last April when the first wave of the pandemic was cresting. As you can see, investors were very overweight tech, healthcare, staples, and cash in April 2020. Bank of America labels these stocks as defensives, but that's up to interpretation.
For example, if you wanted to defend your portfolio against the risk of inflation, you would buy energy and bank stocks. If you want to defend against the risk of a pandemic, buy tech stocks because they benefit from lower economic growth. The z-score of energy was -2.5 in April 2020. Now it's slightly negative. In the past few weeks, energy has cooled off after a great start to the year. Since the close on March 1st, the OIH oil services ETF is down 5.7%.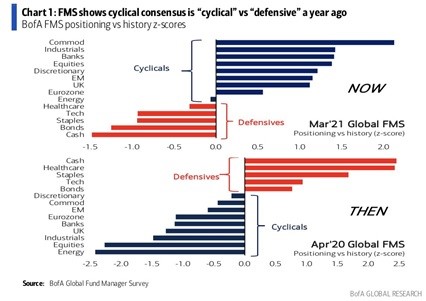 There probably won't be an extremely dramatic end to the 'long cyclicals' trade. In early November, we experienced the largest factor moves ever. We always knew that if a vaccine came out, the cyclical stocks would beat the secular growth stocks. It was just a matter of discovering a vaccine and distributing it effectively. It will be interesting to see what catalyzes the end of the cyclical outperformance. The next negative catalyst probably won't be as bad as COVID-19. You don't want to anchor yourself to 2020. The 10 year yield probably won't fall below 0.5% for a long time. We might never see negative oil again. Value stocks probably won't get that oversold relative to growth stocks for years.
As you can see from the chart below, the lowest percentage of investors said they were overweight tech since 2009. Don't anchor yourself to 2020 or the last expansion. There is no law that says fund managers need to be very overweight tech. This positioning can easily stay this way for a few months if the 10 year yield keeps climbing.
#TECH pic.twitter.com/0orlp7OBen

— JE$US (@WallStJesus) March 17, 2021
Disclaimer: The content in this article is for general informational and entertainment purposes only and should not be construed as financial advice. You agree that any decision you make will be ...
more