Spreads And Risk Over The Past Week (And Months)
I've been amazed at how little the last week's political turmoil has shown up in financial markets. The only thing that seems to have moved anything is the apparent control of the Senate moving to the Democrats.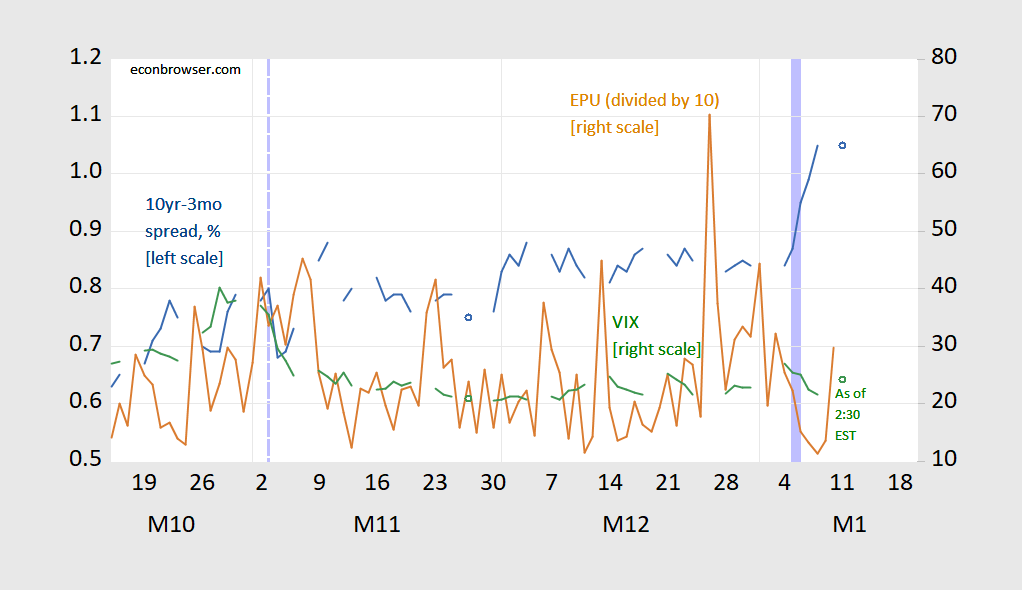 Figure 1: 10yr-3mo Treasury spread, % (blue, left scale), VIX (green, right scale), and Economic Policy Uncertainty (EPU) index divided by 10 (brown, right scale). 1/11 observation for 2/30 EST. Light blue dashed line at 11/3 (election day); light blue shading at 1/5-1/6 (Georgia election, insurrection at Capitol).
You would think with the president of the United States inciting an insurrection against the legislative branch, there would be heightened perceived risk (VIX) and/or heightened uncertainty regarding the course of economic policy (EPU), but no pattern is apparent to my eyes.
The term spread on Treasury's has increased. This outcome could be attributed to the expectations of either more fiscal stimulus and hence larger expected deficits, more vigorous anticipated growth, or both. These are the most commonly cited reasons for yield curve steepening.
Torsten Slok (Apollo) argues (not online) that a good portion of the steepening pre-Georgia (from August onward) is due to a rising term premium on ten-year bonds:
"the entire reason why [ten year Treasury] rates have been going up since August is that the term premium is moving up, and it is now close to zero."
The Christensen-Rudebusch estimates he bases this argument on only extends up to 1/4/2021, so we'll have to wait to get a look at what portion of the post-Georgia steepening — which is qualitatively different from the August-December steepening — is due to changes in the term premium.