Something Just Broke In China As Repo Rate Soars To 1,000% Overnight
Ever since the unexpected failure of China's Baoshang Bank in late May, which caused a freeze in the interbank market among smaller, less credible (and government bankstopped) banks, and which sent rates on Negotiable Certificates of Deposit (NCDs), various bank bonds and assorted report rates sharply higher...
(Click on image to enlarge)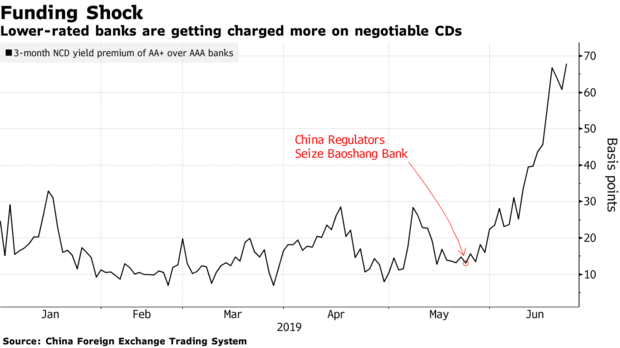 ... investors have fretted that China appears on the verge of a "Lehman moment", where wholesale interbank liquidity and overnight funding markets suddenly lock up. The reason for this, as we explained last month, is that China's short-term lending market for banks and other financial institutions has for years operated under the assumption that Beijing wouldn't allow big losses in the event of defaults or insolvencies (hence the reason why Baoshang's failure was a shock). That confidence has been shaken by regulators' unusual public takeover of the troubled Chinese bank near Mongolia last month, and the even more stunning public admission by the central bank that "not all of Baoshang Bank's liabilities would necessarily be guaranteed."
"Bank failure always causes greater concern given systemic fears," said Owen Gallimore, head of credit strategy at Australia & New Zealand Banking Group, suggesting greater pressure on the private sector ahead.
Naturally, with China growing at the slowest pace in recent history, beset by shadow bank deleveraging, trade war, a shaky transition to a consumer economy and China's first ever current account deficit, these stresses come at a very bad time for the normal functioning of the local economy.
Furthermore, nonbank borrowing through bond repos and interbank loans skyrocketed since China's central bank began easing monetary policy in early 2018, hitting a net 74 trillion yuan ($10.7 trillion) in the first quarter of 2019, according to Enodo Economics, and up nearly 50% from a year earlier. As the WSJ redundantly warns, "funding troubles for brokerages and other asset managers therefore pose big problems for both financial stability and the real economy."
Meanwhile, as we warned as far back as March 2017, problems would eventually migrate from the smallish market for negotiable certificates of deposit, used mostly by small banks, into the vastly greater bond repo market. Here, while key one-day and seven-day weighted average borrowing rates had remained low thanks to huge central bank cash injections - such as the 250BN yuan we described back in May - longer tenors such as the 1 month repo have marched sharply higher.
(Click on image to enlarge)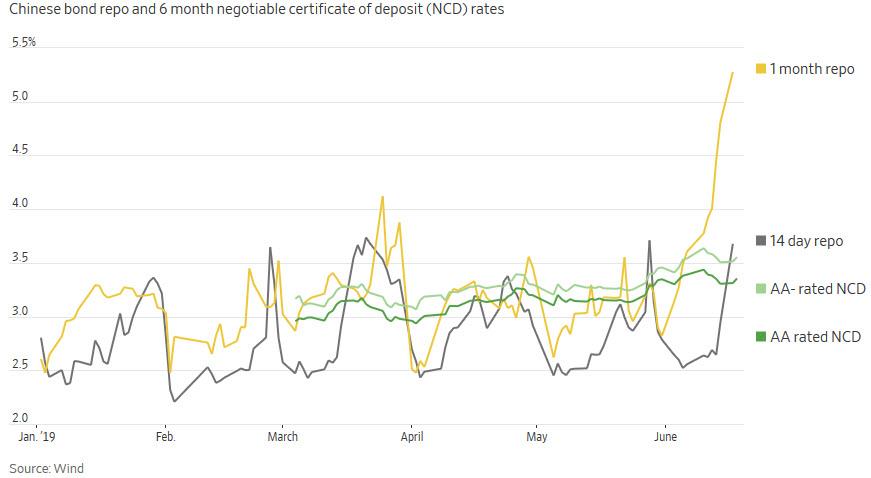 As an aside, for those asking why NCD's matter, the answer is because as we first explained two years ago, numerous smaller banks had become acutely reliant on such shadow banking funding mechanisms as Certificates of Deposit, which had become the primary source of short-term funding for many of China's banks mid-size and smaller banks.
Disclosure: Copyright ©2009-2019 ZeroHedge.com/ABC Media, LTD; All Rights Reserved. Zero Hedge is intended for Mature Audiences. Familiarize yourself with our legal and use policies every ...
more