Seconding Paul Krugman: Inflationary Pressures Will Be A Transient Phenomenon In 2021
Wage growth in 2020 was a side-effect of low-wage entertainment, hospitality, and food services being the hardest hit during the pandemic. Once these businesses resume, average wage growth is going to decline.
In short, unlike the 1960s and 1970s, we aren't going to have a wage-price inflationary spiral. There is going to be a short burst of inflation, due to the fact that millions of people are going to start spending on things like travel and entertainment again. That big spike in demand is going to cause prices to rise.
There is one other factor which I'll mention, which is that the pandemic has also caused bottlenecks in supply, both due to shutdowns in supply industries, and also kinks in transportation, such as shown in the below graph of the Baltic Dry Index: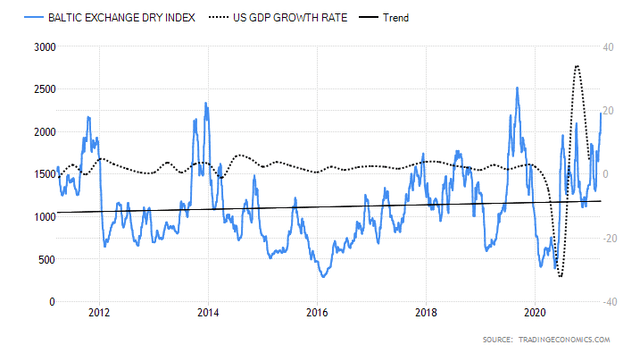 These kinks are going to be worked out. Additionally, because there won't be wage increases to counteract the inflationary spike, it will be short-lived, most likely abating in 2022.
The question I am thinking about, and don't have a good answer to yet, is whether the temporary spike in consumer prices in excess of wage gains will be enough to bring about a recession in 2022. This is because the surge in demand will abate, I.e., decline somewhat, and this in turn may well lead to a cutback in production. The long leading indicators, which had been extremely positive, have turned neutral in the past several months. I expect to be writing a lot more about this in the coming few months.
Disclaimer: This blog contains opinions and observations. It is not professional advice in any way, shape or form and should not be construed that way. In other words, buyer beware.