Seconding Paul Krugman: Inflationary Pressures Will Be A Transient Phenomenon In 2021
Paul Krugman argues once's again this morning that any increase in inflation this year as part of a post-pandemic boom will be transitory:

I agree. I want to elaborate on one point he hasn't emphasized; namely, you can't have a wage-price inflationary spiral if wages don't participate!
To make my point, let me show you three graphs below, covering wages and prices in three different periods: (1) the inflationary 1960s and '70's, (2) the disinflationary Reagan-era 1980s and early '90's, and (3) the low inflation period of the late 1990s to the present.
In addition to the YoY% change in CPI, I also show CPI less energy (gold), better to show oil shocks, and also that it takes about a year for inflation in energy prices to filter through to inflation in other items. Also, hourly wages were greatly affected (depressed) by the entry of 10,000,000's of women into the workforce between the 1960s and mid-1990s. This increased median household income, which would be the better metric, but since that statistic is only released once a year, I've approximated its impact by adding 1% to the YoY% change in average hourly wages (light blue).
Here are the three graphs: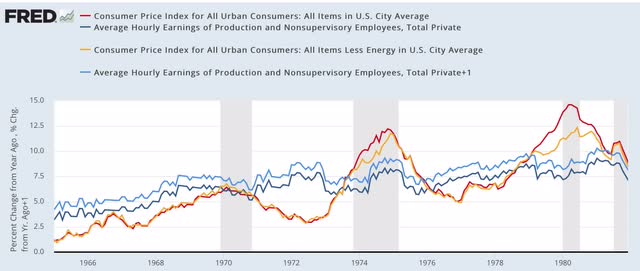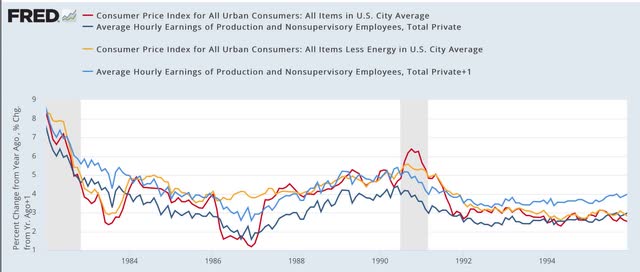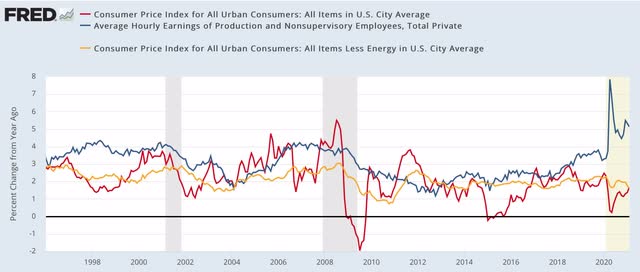 Here's what I want to call to your attention. Until Reagan endorsed union-busting in 1981, unions were able to negotiate for automatic cost of living increases in the 1960s and '70s. So if, say, inflation rose from 3% to 5% in year 1, then the unionized workers got a 5% wage increase in year 2. To compensate for that, their employers raised prices in year 2 as well.
Now look at the first graph. As inflation rose, and particularly after the 1974 and 1979 oil price shocks, wages quickly rose thereafter. During the 17 year period shown, wages went from rising about 4% YoY to rising 9% YoY.
Now look at the later two periods. Wage growth quickly fell to about 4% YoY in the early 1980s, and have never risen significantly above that since, right up until the pandemic. In fact wage growth continued to decline after recessions until 1992, 2004, and 2013 respectively. Only when unemployment and underemployment fell to roughly 5% and 8% respectively did wage growth start to increase.
Disclaimer: This blog contains opinions and observations. It is not professional advice in any way, shape or form and should not be construed that way. In other words, buyer beware.