Ruth Bader Ginsburg Helped Shape The Modern Era Of Women's Rights
Ruth Bader Ginsburg helped shape the modern era of women's rights – even before she went on the Supreme Court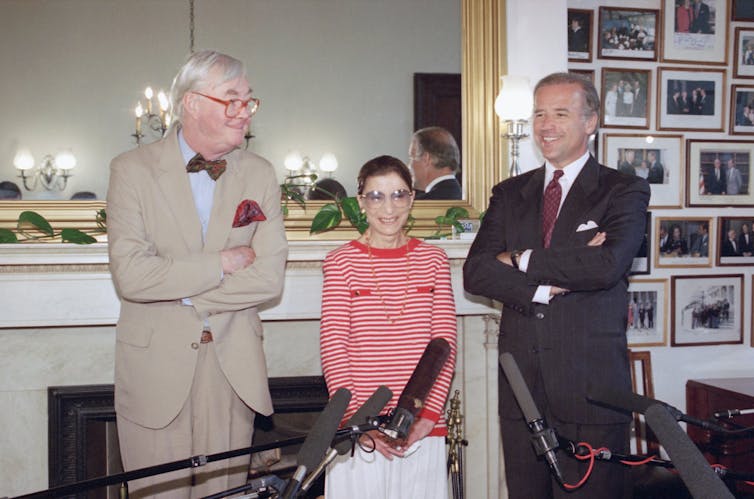 Judge Ruth Bader Ginsburg paying a courtesy call on Sen. Daniel Patrick Moynihan, D-N.Y., left, and Sen. Joseph Biden, D-Del., in June 1993, before her confirmation hearing for the Supreme Court. AP/Marcy Nighswander
Justice Ruth Bader Ginsburg died on Friday, the Supreme Court announced.
Chief Justice John Roberts said in a statement that "Our nation has lost a jurist of historic stature."
Even before her appointment, she had reshaped American law. When he nominated Ginsburg to the Supreme Court, President Bill Clinton compared her legal work on behalf of women to the epochal work of Thurgood Marshall on behalf of African-Americans.
The comparison was entirely appropriate: As Marshall oversaw the legal strategy that culminated in Brown v. Board of Education, the 1954 case that outlawed segregated schools, Ginsburg coordinated a similar effort against sex discrimination.
Decades before she joined the court, Ginsburg's work as an attorney in the 1970s fundamentally changed the Supreme Court's approach to women's rights, and the modern skepticism about sex-based policies stems in no small way from her lawyering. Ginsburg's work helped to change the way we all think about women – and men, for that matter.
I'm a legal scholar who studies social reform movements and I served as a law clerk to Ginsburg when she was an appeals court judge. In my opinion – as remarkable as Marshall's work on behalf of African-Americans was – in some ways Ginsburg faced more daunting prospects when she started.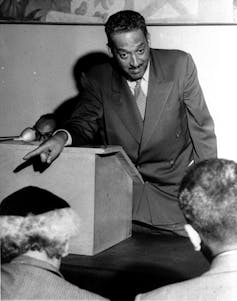 Thurgood Marshall, in 1955, when he was the chief counsel for the NAACP. AP/Marty Lederhandler
Starting at zero
When Marshall began challenging segregation in the 1930s, the Supreme Court had rejected some forms of racial discrimination even though it had upheld segregation.
When Ginsburg started her work in the 1960s, the Supreme Court had never invalidated any type of sex-based rule. Worse, it had rejected every challenge to laws that treated women worse than men.
For instance, in 1873, the court allowed Illinois authorities to ban Myra Bradwell from becoming a lawyer because she was a woman. Justice Joseph P. Bradley, widely viewed as a progressive, wrote that women were too fragile to be lawyers: "The paramount destiny and mission of woman are to fulfil the noble and benign offices of wife and mother. This is the law of the Creator."
This article is republished from The Conversation under a Creative Commons license.