Remembering Martin Feldstein
Today, we present a guest post written by Jeffrey Frankel, Harpel Professor at Harvard's Kennedy School of Government, and formerly a member of the White House Council of Economic Advisers.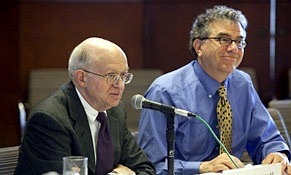 Remembering Martin Feldstein
June 13, 2019 — Here in Cambridge, we are reeling from the passing of Martin Feldstein on Tuesday. He was tremendously influential both as scholar and teacher. He was also a major policy-maker: Below, the last section of this remembrance offers some recollections of his time as Chairman of Ronald Reagan's Council of Economic Advisers.
In addition, remembrances at his funeral service today appropriately emphasized some qualities not known to those who knew of him only as a conservative economist: his generosity and humanity. He was greatly interested in other people, especially young people. A personal anecdote. Once, leaving a conference at Stockbridge, VT, I discovered that somebody else had taken my taxi, leaving me in danger of missing my plane from the airport in Lebanon, NH. Marty and his wife Kate dropped what they were doing and made the 75 mile roundtrip drive to get me to the airport on time.
Marty and the NBER
Martin Feldstein was also remarkable as a builder of institutions, particularly the National Bureau of Economic Research. When he took over the NBER in 1977, it was a small sleepy outfit in New York City that researched business cycle statistics. He transformed it utterly into the leading think-tank for economic research by far. Like the advent of Uber, the new NBER consisted of several innovations rolled into one.
Some observers wondered how a small think-tank in Cambridge, Massachusetts, could turn out thousands of important research papers. The most innovative of Marty's ideas was the that its members would be leading scholars in applied fields who remained employees of their universities spread throughout the country, but who would simultaneously be members of the NBER. There they interacted with other leading scholars in their field, via working papers, grants, program meetings, and conferences.