Rates Spark: All I Want For Christmas…
More importantly, the German plans give us an important cornerstone of overall eurozone bond issuance plans for next year. The plans so far put us in track for €1.25tn of gross issuance. Given redemptions close to €670bn, the market will face €580bn of net new issuance. But the price means investors won't be alone in absorbing it.
Being a step ahead, the ECB has expanded its Pandemic Emergency Purchases by €500bn, extending the programme until March 2022. Alongside, the regular asset purchase grogramme will continue to buy €20bn per month. Extrapolating the current shares of asset classes and spreading the remaining purchase volume equally over the duration of the programmes we estimate that the ECB could purchase up to €820bn alone in government bonds next year, some €240bn more that next year's anticipated net issuance.
And in Germany specifically? The ECB could buy more than €150bn if one strictly applies the ECB's country distribution target, highlighting that the ECB's volumes should be sufficient to keep upward pressure on bond yields, aka financing costs, in check despite increased issuance volumes.
German bond issuance ramped up in 2021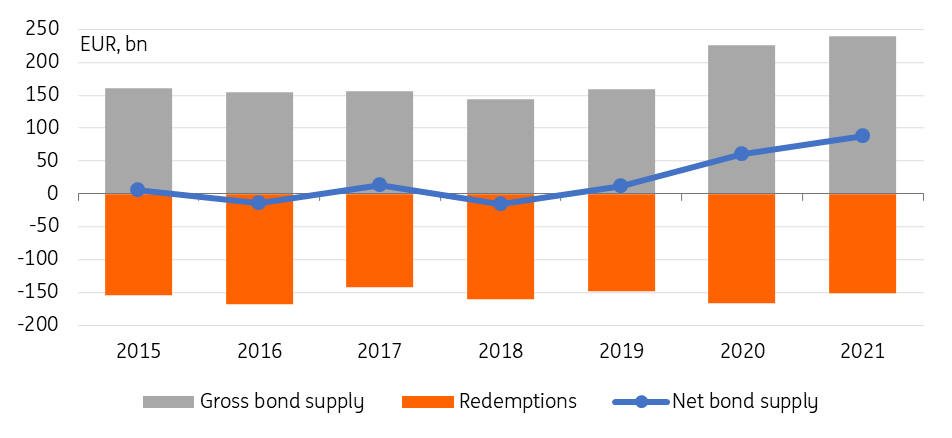 Source: DFA, ING
Persistently low rates...
Turning to today's session, it is possible the December IFO delivers another upbeat message but we suspect the PMIs earlier in the week took the edge off it. Despite the hope of positive news on a number of fronts, including US fiscal stimulus and Brexit deal, rates are struggling to make significant headway. The US is quickly turning into the problem child of the global economy, at least in the near term. Jobless claims published yesterday have reinforced our economists' view that December might deliver negative jobs growth, hardly a recipe for widespread optimism.
...and some Christmas cheer
Since today is the last Rates Spark of the year, all we have left to do is thank our readers for their continued support, and wish them a happy Christmas and winter break. It is going to be a strange one.
Disclaimer: This publication has been prepared by ING solely for information purposes irrespective of a particular user's means, financial situation or investment objectives. The information ...
more