Rate Hikes Back On The Table?
Moats
A business has a moat when competitors have a very difficult time gain share no matter what they do. Some competitors even give up because they can't compete. One example of an industry with a strong moat is the credit card providers (Mastercard & Visa). It's difficult to gain the scale they have because most businesses only accept a few cards. It would take years of losses to start a new credit card company.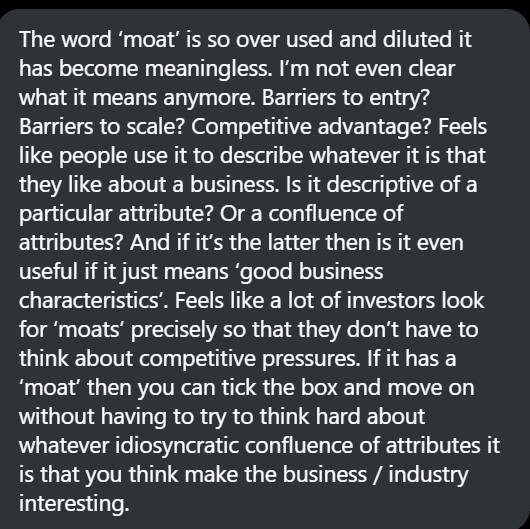 The message above shows the term moat is overused because it is being applied to everything as an excuse to ignore reviewing competitive pressures. Investors feel once they found a business with a moat, they can ignore its risks. However, you probably shouldn't do that because the moat might not be as strong as you think. This isn't a get out of homework pass. You still have to do the work.
Conclusion
COVID-19 hospitalizations are peaking and the vaccination rate is rising. The hype about the reopened economy and fiscal stimuli are causing long rates to rise and commodity prices to rally. WTI is at $53 which is an 11 month high. Just 10 months ago, it went negative for a few hours. Some investors are betting on a rate hike in 2022 or 2023. Higher rates are going to cause momentum stocks to underperform and some to crash. You can't have a 2% 10-year yield and a rise in money-losing tech stocks like in 2020. Moats aren't a way to avoid doing research on competitive threats. Investing isn't that easy.
Disclaimer: The content on this site is for general informational and entertainment purposes only and should not be construed as financial advice. You agree that any decision you make will be ...
more