Negative 5 Year Annualized Real Returns For S&P 500
The most interesting discussion in economics is about whether the increasing jobless claims mean the labor market is weakening and the expansion is near its end. The bearish argument is obvious. Increasing claims are a bad sign for stocks since claims increase before and during recessions. It's not a good sign to see a leading indicator weaken. The bulls claim this is just noise since the change in jobless claims is very small in relation to the total labor market. Supporting the noise argument is the chart below which shows non-seasonally adjusted jobless claims are still down year over year, which is a good thing.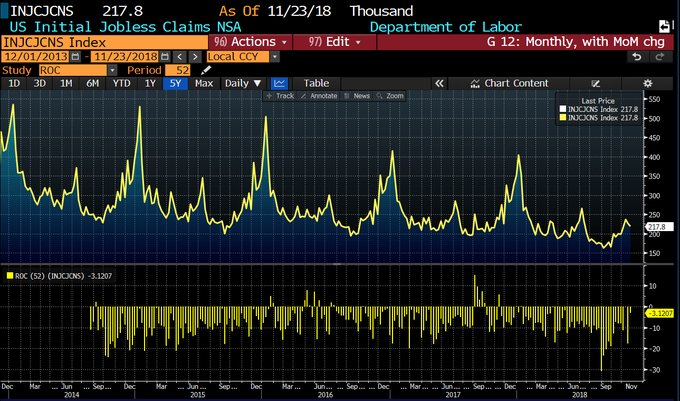 Source: Bloomberg
Both arguments are correct since these are small changes and might be noise, but jobless claims do increase during and prior to recessions. Even though these changes are small, jobless claims don't give us much lead time in predicting stock market moves. By the time the weakness is fully confirmed, by the 4 week moving average of claims rising above 300,000, stocks will already be down. Bullish investors argue that claims have spiked before without any issues as you can see in the chart below. However, we feel each increase needs to be monitored.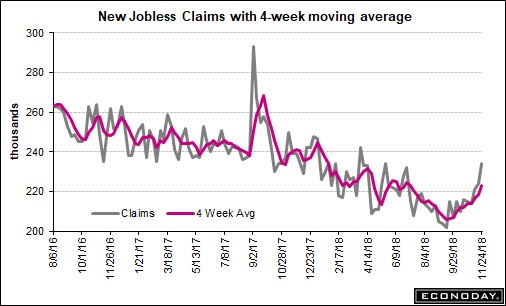 Source: Econoday
Sometimes spikes are noise and sometimes they aren't. It's up to investors to scope out changes in the labor market to separate the signals from the noise. It's fair to pay closer attention to negative catalysts when overall economic growth is slowing within a global growth slowdown like we're seeing now.
Initial claims for the week of November 24th were 234,000 which was an increase of 10,000 from the prior week. This is the 3rd straight week of increases. The 4 week moving average was up from 218,500 to 223,250. That's the highest reading since July. Keep in mind, there aren't any special one time factors which are pushing this report higher.
The claims are still incredibly low as the cycle trough had the lowest jobless claims in relation to the labor market in history. Jobless claims have gone from "spectacular" to "great" which is bad in rate of change terms. Continuing claims for the week earlier were up 50,000 and the 4 week moving average was up 20,000 to 1.668 million. The trough in October of 1.635 million was a 45 year low for continuing claims. The unemployment rate for insured workers increased 0.1% to 1.2%.
Disclaimer: Please familiarize yourself with our full disclaimer here.