Market Talk – Wednesday, March 25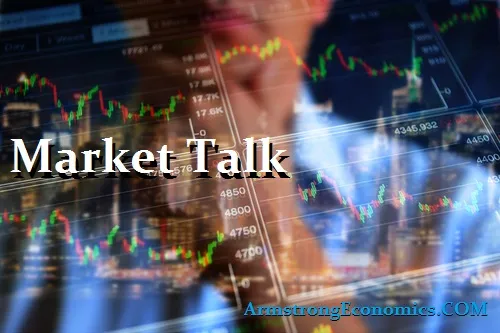 ASIA:
India's informal sector which comprises of approx. 1 million daily wage workers (mainly working in the construction sector) may face a big problem after the country went into a complete lockdown for 21 days. Many Indian states have announced packages ranging from 1K INR to 5k INR to support the daily wage workers but this is limited to only registered workers with agencies and large construction companies in India. Approx. 5,00,000 daily wage workers working in the informal sector are not registered with such companies or agencies.
India has reported 606 confirmed cases of COVID-19 and 11 deaths at the time of writing this report.
Facebook Inc is in talks to buy a multibillion-dollar stake in Reliance Industries Ltd.'s telecom unit- Reliance Jio, a major Indian daily news agency reported. It was reported that Facebook was in for a 10% stake in Jio, controlled by India's wealthiest man Mukesh Ambani, but the talks were halted due to global travel bans amid the coronavirus outbreak.
Li Keqiang, who is the current Premier of the State Council of the People's Republic of China, has warned local officials not to hide new coronavirus cases after the country reported several days of no locally transmitted infections in a major turnaround in its fight against the deadly pandemic. Li, the country's second-in-command, urged local governments on Monday to "seek truth from facts" and be "open and transparent" in releasing information on the epidemic.
The Badaling section of the Great Wall of China has reopened as life is China slowly regains normalcy. The popular tourist place was closed in January amid coronavirus concerns.
Japanese Prime Minister Shinzo Abe and the International Olympic Committee have agreed that the upcoming Tokyo Games "will be held by the summer of 2021," the prime minister's office announced Tuesday.
The major Asian stock markets had a green day today:
NIKKEI 225 increased 1,454.28 points or 8.04% to 19,546.63
Shanghai increased 59.15 points or 2.17% to 2,781.59
Hang Seng increased 863.70 points or 3.81% to 23,527.19
ASX 200 increased 262.40 points or 5.54% to 4,998.10
Kospi increased 94.79 points or 5.89% to 1,704.76
SENSEX increased 1,861.75 points or 6.98% to 28,535.78