Market Talk – Wednesday, June 3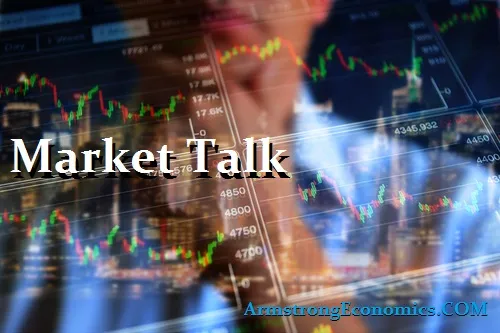 ASIA:
The US government says it will block Chinese airlines from flying into the US in response to China's decision to ban US air carriers on June 1, 2020. The Transportation Department restrictions will take effect on June 16 but could be enacted earlier if President Donald Trump decides to do so. The Transportation Department also said, "In the meantime, we will allow Chinese carriers to operate the same number of scheduled passenger flights as the Chinese government allows ours."
HSBC has openly supported the national security law China is imposing on Hong Kong, breaking the bank's silence on the legislation opposed by the UK government. Last week, Leung Chun-Ying, who served as the Chinese special administrative region's third chief executive, renewed pressure when he called for the bank to declare its support for the law. The bank has released a post online and said, "We reiterate that we respect and support laws and regulations that will enable Hong Kong to recover and rebuild the economy and, at the same time, maintain the principle of 'one country two systems.'"
India launched a USD $6.65 billion plan on Tuesday to boost electronics manufacturing, saying it would start by offering five global smartphone makers incentives to establish or expand domestic production. The government is offering a production-linked incentive (PLI) involving cash worth 4% to 6% of additional sales of goods made locally over five years, with 2019-2020 as the base year, technology minister Ravi Shankar Prasad told a news conference.
The Indian government has approved Gilead Sciences Inc's antiviral drug Remdesivir for emergency use in treating COVID-19 patients. Remdesivir is the first drug to show improvement in COVID-19 patients in formal clinical trials. It was granted emergency use authorization by the US Food and Drug Administration last month and has received approval by Japanese health regulators.
India's central bank has softened its stance on teaser loans, which several Indian automakers are offering this to Indian car buyers to increase the sales amid coronavirus-induced economic slump. Maruti Suzuki, Hyundai and Mercedes Benz have already launched such schemes, according to press releases over the past week. Teaser loans offer low interest rates for the first few months or years to attract customers, but rates are later rapidly increased.
The major Asian stock markets had a green day today:
NIKKEI 225 increased 288.15 points or 1.29% to 22,613.76
Shanghai increased 1.97 points or 0.07% to 2,923.37
Hang Seng increased 329.68 points or 1.37% to 24,325.62
ASX 200 increased 106.50 points or 1.83% to 5,941.60
Kospi increased 59.81 points or 2.87% to 2,147.00
SENSEX increased 284.01 points or 0.84% to 34,109.54
The major Asian currency markets had a green day today: