Market Talk – Thursday, Jan. 23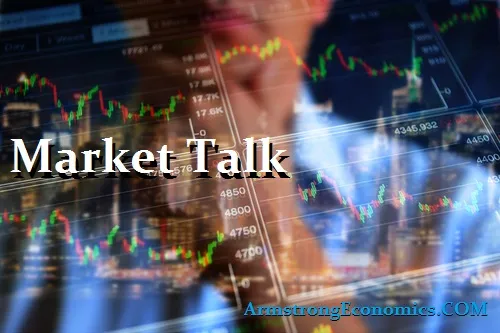 ASIA:
India is planning to send a "female" humanoid robot called Vyommitra into space as part of an unmanned mission that could launch this year. Indian Space Research Organization head K. Sivan described the robot as a "half-humanoid" as it does not have any legs. Vyommmitra will speak two languages to communicate with mission control, and possibly with astronauts in the future.
At WEF Summit in Davos, Switzerland, Rajnish Kumar, Chairman of India's largest public-sector Bank (State Bank of India), said India's shadow lending sector is in a "better position" after two years of clean up. India's non-banking financial companies (NBFCs) — often referred to as shadow lenders — faces funding challenges because of bad assets and corporate government issues. Yet, he struck an optimistic tone about the outlook. According to Kumar, after India's central government warned that the collapse of a large Indian non-bank financial company could inflict as much damage as that of a commercial bank, shadow banks are becoming more strategic in raising funds. Kumar said, "They have been able to raise funds in international markets; they have been able to raise funds in equity markets. I don't think that we need to take such a gloomy view, but I would not say that we just don't keep an eye or don't be watchful. My assessment is … we're much more confident than we were six months ago."
The outbreak of a deadly disease in China has led to a market tumble in the region as investors worry that Chinese shoppers will stay home for the Lunar New Year holiday and beyond. It has cast a pall over growth prospects for the world's second-largest economy, raising fears about the global outlook. Economists say the possible impact is not clear yet. The uncertainty has put a palpable damper on the Chinese economy, which has for years been one of the world's most powerful growth engines. A stumble in China could hobble jobs and growth elsewhere. Today, China's economy is bigger but growing at its slowest pace in nearly three decades. It is grappling with problems like the trade war with the United States and a campaign to wean local governments and companies off their addiction to borrowing.
In an attempt to resolve the ongoing spat over palm oil import issue with India, Malaysia's top sugar refiners has decided to increase purchase of commodity from India. MSM Malaysia Holdings Berhad will buy 130,000 tonnes of raw sugar from India worth 200 million ringgit ($49.20 million) in the first quarter, the company told Reuters. It bought around 88,000 tonnes of raw sugar from India in 2019. MSM is the sugar refining arm of the world's largest palm oil producer, FGV Holdings, which is a unit of Malaysian state-owned Federal Land Development Authority or Felda. The people familiar with the matter said it was a bid to appease India, which has been urging Malaysia to trade deficit between the countries.