Market Talk – Monday, Jan. 13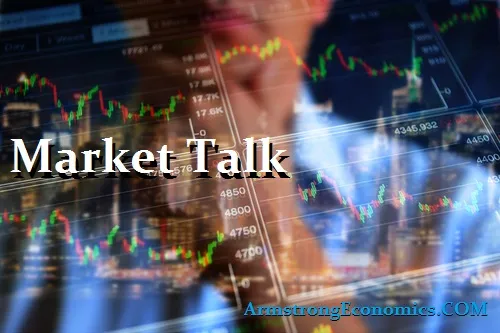 ASIA:
All eyes will be on the signing of the US and China trade deal that is due to occur on Wednesday when Vice Premier Liu will be heading with his entourage to Washington. It seems previous tensions are easing ahead of the talks. The US today removed China off the currency manipulator list as both countries agreed to not weaken their currencies in order to gain a competitive advantage.
China's foreign minister Wang Yi recently visited Harare and during a joint press conference with his counterpart, Sibusiso Moyo, called for sanctions against Zimbabwe to be lifted, saying they have no basis under international law. The US and EU have placed sanctions on senior Zimbabwean officials and businesses but Wang says they have no basis in international law. The two nations are long-standing allies and Wang's visit to reaffirm Beijing's commitment to supporting the African country's economic development. As a veto-holding member of the UN Security Council, China has helped Zimbabwe escape sanctions that would have included an arms embargo, and financial and travel restrictions on senior government and military officials.
The Indian government plans to push the central bank (RBI) for a fiscal lifeline in the form of another interim dividend as it struggles to meet its expenditure commitments amid a steep revenue shortfall, sources directly aware of the matter said. The fresh call comes just months after the Reserve Bank of India (RBI) approved a $24.8 billion dividend payment to the government, including $ 20.9 billion for the current fiscal year. One of the officials said the government does not want to make an RBI interim dividend a regular practice but will consider its demand for an interim dividend given this financial year has been an "exceptional year" with economic growth projected to fall to an 11-year low of 5%.
India's second-biggest IT services and consulting company, Infosys Ltd, said it found no evidence of financial misconduct by its executives following an investigation into whistleblower complaints. Bengaluru-headquartered Infosys, which earlier on Friday raised its revenue forecasts due to upbeat demand from Western clients, said an audit committee report exonerated Chief Executive Officer Salil Parekh and Chief Financial Officer Nilanjan Roy of all allegations, including accusations that the duo prevented employees from presenting data on large deals.
A court in Pakistan has overturned the death sentence handed down to former President Pervez Musharraf by declaring the legal process unconstitutional. Gen Musharraf had challenged the formation of a special court that found him guilty of treason last December. On Monday, the Lahore High Court sided with the exiled general, who seized power in a 1999 coup and was president from 2001 to 2008.
Singapore's shipping throughput hit an all-time high last year, despite weak global economic activity and challenges such as the trade war between the United States and China. Container throughput at the Port of Singapore hit an all-time high of 37.2 million twenty-foot equivalent units (TEUs) in 2019, the Maritime and Port Authority of Singapore (MPA) announced in a press release on Monday. The 2019 container throughput is 1.6 percent higher than the 36.6 million TEUs registered in 2018, and 31 percent higher than the 28.4 million TEUs in 2010. This marks "strong growth in the past decade" amid challenging economic conditions, MPA noted.