Market Talk – Monday, April 6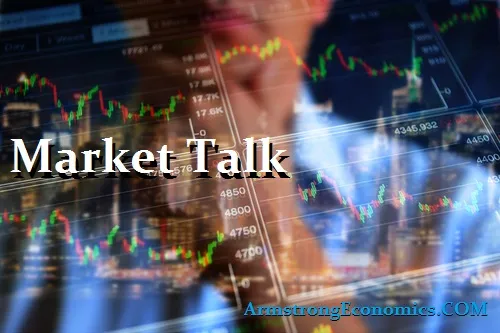 ASIA:
The former governor of the Reserve Bank of India Raghuram Rajan has said that India can beat the virus with the right resolve and priorities by focusing on immediate needs and delaying less important expenditures. He also said that it will be hard to lockdown the country entirely for much longer periods as the poor and non-salaried middle class will not be able to survive if they are kept out of work for longer periods.
The total number of novel coronavirus cases in India surged to 4,281 on Monday, according to the Union Health Ministry. The number of fresh cases increased by 214 today. The death toll has increased to 111, while 318 patients have been discharged or recovered from the highly contagious disease.
India is reconsidering President Trump's request to release the amount of hydroxychloroquine, one of the oldest and best-known anti-malarial drugs, ordered by the United States after India last month banned the drugs for exports. Based on some initial results, the Trump administration is banking heavily on using hydroxychloroquine for the successful treatment of coronavirus.
People flocked to popular tourist sites and major cities across China over the country's holiday weekend, despite warnings from health authorities that the risk posed by the coronavirus pandemic remains far from over. Images from the Huangshan mountain park in Anhui province on Saturday, April 4, showed thousands of people crammed together, many wearing face masks, eager to experience the great outdoors after months of travel restrictions and strict lockdown measures.
The People's Bank of China held a press conference in Beijing to check on the progress of continued research and development of central bank digital currency. The People's Bank of China has completed basic function development for a digital yuan. This puts China one step closer to issuing its CBDC (Central Bank Digital Currency).
Singapore needs to plan and be ready for more disruptions to its supply of food and other essentials, as lockdowns continue in exporting countries, said Minister for Trade and Industry Chan Chun Sing. Air travel restrictions have considerably diminished global air cargo capacity and connectivity, while seaport capacities are increasingly being put under stress, he said.
The major Asian stock markets had a green day today:
NIKKEI 225 increased 756.11 points or 4.24% to 18,576.30
Shanghai closed
Hang Seng increased 513.01 points or 2.21% to 23,749.12
ASX 200 increased 219.30 points or 4.33% to 5,286.80
Kospi increased 66.44 points or 3.85% to 1,791.88
SENSEX closed