Market Talk – Friday, Oct. 18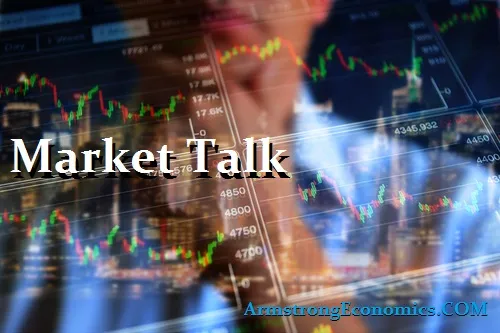 ASIA:
There is some concern over the latest figures of Chinese unemployment, which shows that 10.97 million new jobs were created. This is very close to the full-year government target of 11 million. US President Trump often bashes China and suggests that the trade war is costing them dearly, with more than "3 million jobs" lost, however, the current figures do not show such a loss which brings to question whether the government figures are accurate or not.
The Chinese economy grew at 6% in the third quarter which is the slowest rate since records began 27 years ago. Many analysts are expecting the last quarter to slow further.
The World Bank International Monetary Fund (IMF) annual meetings kicked off on a somber note, with the IMF downgrading global growth in 2019 to 3%, which is the slowest since the global financial crisis. India's growth projections have also been downgraded to 6.1% and 7.0% in 2019 and 2020 respectively, down by 1.2 percentage points and 0.5 percentage points relative to April's projections due to weaker than expected domestic demand.
Globally, rising trade barriers heightened uncertainty around trade and geopolitics, and idiosyncratic factors have strained several emerging markets. Structural factors such as advanced economies' aging population and low productivity growth were the causes behind a "synchronized slowdown," the IMF said in its 2019 World Economic Outlook (WEO) Global Manufacturing Downturn, Rising Trade Barriers report. "This is a serious climbdown from 3.8% in 2017," the WEO said of the 2019 global growth projection. World output is projected to increase to a modest 3.4% in 2020 — still lower by 0.2% than the April projection. Unlike the slowdown, this recovery is expected to be "precarious" and "not broad-based" as per the IMF. Emerging economies will show increased growth from 3.9% in 2019 to 4.6% in 2020, while advanced economies will slow to 1.7% in 2019 and 2020. The report called for defusing trade tensions, "reinvigorating" multilateral cooperation, and "providing timely support to economic activity where needed."
IMF Chief Economist Gita Gopinath said at a press briefing on Tuesday that India's negative growth has come from financial vulnerabilities in the non-bank financial sector that impacted consumer borrowing and borrowing of small and medium enterprises. The projected growth in India's case will be supported by lagged effects of monetary policy easing, cuts to corporate taxes, measures to address environmental and corporate uncertainty, and government programs to boost rural consumption. On the fiscal side for India there have been some recent measures including the corporate tax cut. There have not been any announcements about how that will be offset through revenues at this point.
India's growth rate in the April-June quarter had hit 5%, the lowest in six years, as per government data. Consumption, investment, and exports were down. The World Bank had projected that India's growth rate would fall to 6.0% from 6.9% in 2018. The Index of Industrial Production for India was 1.1%, month on month, in September — its lowest since February 2013. "Appropriate steps have been taken, there is still a lot more do be done, including cleaning up of the balance sheets of regular commercial banks. The premise (for India's growth projections) is that these particular bottlenecks will clear up," Gopinath said on Tuesday.