Market Talk – Friday, Jan. 24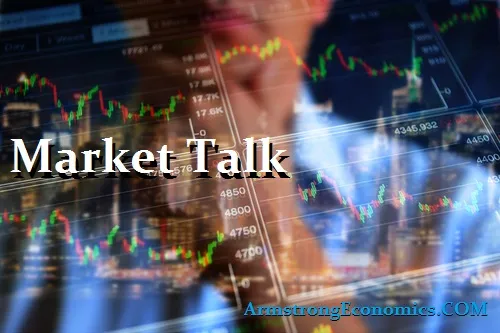 ASIA:
China is experiencing an outbreak of the coronavirus that has affected 900 people and taken the lives of 26. The Chinese Government has put 13 cities on lockdown which affects 36 million people. The virus has spread to other countries as well, with the first case in France being reported today.
Neha Narula, director of the Digital Currency Initiative at the Massachusetts Institute of Technology (MIT) along with some group of experts predicted that a digital Chinese yuan could allow some countries to avoid US sanctions and increase the Chinese government's influence. The People's Bank of China is working on a digital yuan but has released very few details about the technology behind it or the timeline of its release. Narula described a simulation that took part in November involving a number of people including Larry Summers and former US Secretary of Defense Ash Carter. The participants simulated a White House National Security Council meeting in response to a major security crisis. One of the situations involved North Korea developing a missile that had the capability to reach the US. It was funded by the digital yuan which allowed North Korea to bypass the global banking system and US sanctions.
India's government is planning to increase import duties on more than 50 items including electronics, electrical goods, chemicals, and handicrafts. This will target about $56 billion worth of imports from China and elsewhere, sources close to the matter said. It is expected that this announcement could be made by India's finance minister. She will present the annual budget for 2020-21 on February 1, along with other stimulus measures to revive sagging economic growth.IMF chief Kristalina Georgieva on Friday said growth slowdown in India appears to be temporary and she expects the momentum to improve going ahead. On Monday, the IMF lowered growth estimate for the world economy to 2.9 percent for 2019 citing "negative surprises" in a few emerging market economies especially India.
India is likely to fund roughly $28 billion of its expenditure outlay in its budget for fiscal 2020- 21 via off-budget borrowings as it seeks to revive a sagging economy while keeping its fiscal deficit in check. Prime Minister Narendra Modi's government is under pressure to increase spending on rural welfare schemes and infrastructure to boost growth that has fallen for six straight quarters. Sources close to the matter also said that there is a possibility that real deficit touches 4.5% of GDP to meet the expenditure for the next fiscal year 2020-21.