Market Talk – Friday, Jan. 10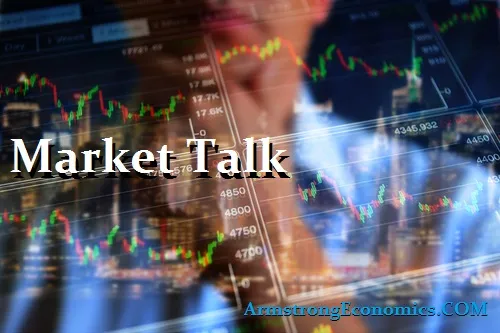 ASIA:
Apple saw a huge boost in iPhone sales in China last month, but embattled tech giant Huawei won't giving up the top spot anytime soon. Sales for the iPhone jumped 18% in December compared to the same month a year earlier, according to data from the China Academy of Information and Communication Technology. The news beat Wall Street's projections and sent Apple shares to a record high on Thursday. But Apple has been losing ground to domestic rivals in China for years, and analysts say that trend is unlikely to change. The biggest reason is that Apple sells expensive phones to wealthy customers. That only allows Apple to go after so much of the market since competitors like Huawei and Xiaomi offer a wider range of phones at varying price points
The Indian supreme court on Friday directed the Jammu and Kashmir administration to review the restrictive orders imposed in the region within a week. Calling the freedom of speech "an essential tool in a democratic setup," Justice Ramana said that the freedom to access the internet "is a fundamental right" under Article 19 (1) (a) of the Constitution. The top court pronounced the verdict on a number of petitions challenging the restrictions and internet blockade imposed in Jammu and Kashmir after the abrogation of Article 370 in August last year.
Soft Bank Group Corporation is in talks to sell a majority stake in its renewable energy joint venture in India as it looks to raise cash after facing setbacks to its global investments, India's Economic Times daily reported on Thursday. SoftBank's Indian renewable energy business is a joint venture with India's Bharti Enterprises and Taiwan's Foxconn Technology Group. The Japanese technology giant has been in talks with sovereign wealth and pension funds from the Far East and Gulf regions, as well as some Silicon Valley technology giants, the report said.
India tore into Pakistan on Thursday at an open debate at the UN Security Council, accusing its representatives of epitomizing "the dark arts" and "peddling falsehoods." Earlier, Pakistan's UN envoy Munir Akram brought up the scrapping of Jammu and Kashmir's special status and said it was a first step in what he claimed were Indian efforts to suppress Muslims. India dismissed Islamabad's narrative "with disdain." Syed Akbaruddin, India's Permanent Representative to the UN, responded strongly and said, "My simple response to Pakistan is even though it is late, heal thyself of your malaise. There are no takers here for your malware."
The U.S. State Department approved a possible sale of up to 12 F-35B fighter jets to Singapore for an estimated $2.75 billion. The Defense Security Cooperation Agency (DSCA) said in a statement released on Thursday that it delivered the required certification notifying Congress of the potential sale. Singapore made the request last year to purchase F-35 jets as it looks to augment its operational aircraft inventory, replacing its aging F-16 fleet.