Market Talk – Friday, Feb. 14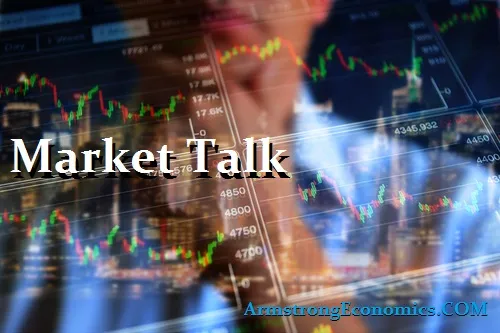 ASIA:
A meeting is being planned between US President Trump and Indian executives, especially those focusing on job creation and manufacturing in the United States, on February 25 when President Trump visits India.
Vodafone's Indian business Vodafone Idea Ltd reported its sixth straight quarterly loss. Revenue fell 5.8% to 1.55 billion USD in the reported quarter. Vodafone Idea had reported a loss of 7.12 billion USD in the second quarter of 2019, the biggest loss ever by a company in Indian corporate history. The quarterly results come as Vodafone Idea and other Indian telecom firms are pressured by government demands to pay $13 billion in overdue levies in a long-contested dispute.
India has offered to partially open up its poultry and dairy markets in a bid for a limited trade deal during U.S. President Donald Trump's first official visit to the country this month, people familiar with the protracted talks say. India, the world's largest milk-producing nation, has traditionally restricted dairy imports to protect the livelihoods of 80 million rural households involved in the industry. But Prime Minister Narendra Modi is trying to pull all the stops for the US president's Feb. 24-25 visit, aimed at rebuilding bonds between the world's largest democracies.
Chinese Investment Bank China International Capital Corp. published a survey report which says of 163 companies of all sizes across China found that less than half were able to get back to work this week. Even more alarming: a third of roughly 1,000 small and medium-sized companies surveyed by academics from Tsinghua University and Peking University last week said they could only survive for a month with the cash they have. That could spell terrible news for China's entrepreneurs — and an even worse reality for the country's economy. About 30 million small and medium-sized businesses contribute more than 60% of the country's GDP, according to government statistics published last September. The taxes they pay account for more than half of government revenue, and they employ more than 80% of China's workers.
The major Asian stock markets had a mixed day today:
NIKKEI 225 decreased 140.14 points or -0.59% to 23,687.59
Shanghai increased 10.93 points or 0.38% to 2,917.01
Hang Seng increased 85.60 points or 0.31% to 27,815.60
ASX 200 increased 27.00 points or 0.38% to 7,130.20
Kospi increased 10.63 points or 0.48% to 2,243.59
SENSEX decreased 202.05 points or -0.49% to 41,257.74