Low Income Households Are Blowing Through Savings Much Faster Than High Earners
One of the unexpected silver linings resulting from the COVID crisis frequently brought up by economists, is the record surge in household savings as a result of the trillions of fiscal stimulus injected in the economy earlier this year: this cash buffer, conventional thinking goes, provides Americans with a safety net should the US economy double-dip, or if COVID shutdowns persist into 2021, hammering small businesses. And while said buffer has shrunk substantially in recent months, with the average personal savings rate dropping to 13.6% from a record 33.7% in April, it still remains more than double recent levels.
(Click on image to enlarge)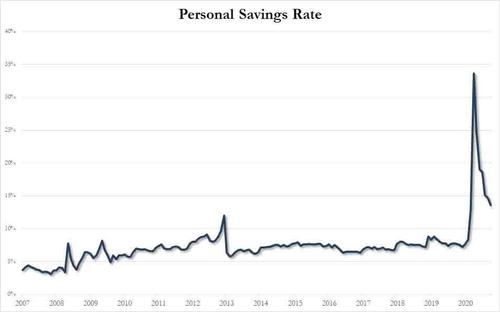 Unfortunately, as is the case with record US household net worth - where as we showed last week the bulk of assets is held by the top 1% while the bottom 90% are left the liabilities - the average savings rate doesn't tell the full story, and according to a new study low-income households are burning through their cash far more quickly than higher-income families and could be out of savings soon if more aid is not delivered.
The report, released Wednesday by the JPMorgan Chase Institute, found that the median household checking account balance surged by 65% after the arrival of stimulus checks in April, formally known as Economic Impact Payments, but balances have steadily declined since May, and by the end of October the median low-income family spent 64% of the extra cash they accumulated this year compared with last year, leaving them with about $236 in extra cash. In contrast, higher-income households lost just 38% of the cash cushion built up this year and had a median of $810 in savings.
(Click on image to enlarge)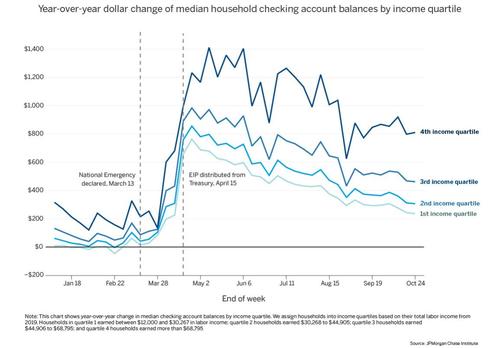 "If these trends continue, we would expect low-income families to deplete their account balance gains sooner than their high-earning counterparts," researchers noted in the report, which reflects the Chase checking account balances of 1.8 million families through October.
Disclaimer: Copyright ©2009-2020 ZeroHedge.com/ABC Media, LTD; All Rights Reserved. Zero Hedge is intended for Mature Audiences. Familiarize yourself with our legal and use policies every time ...
more