JPM Now Expects The US To Add 675,000 Jobs Every Month
One month ago we asked whether "Powell just gave everyone the green light to just keep buying stocks for the next two years", the reason for which was Powell strange statement that the latest 6.3% unemployment rate is not indicative of the economic reality, and underlined that the US economy is 10 million jobs down from where it was a year ago.
We then calculated that in order to replace all the lost workers by end-2022 - when consensus expects the first-rate to take place - and accounting for natural labor-market growth, we would need an average payrolls figure of over 500,00 every month through to next December.
(Click on image to enlarge)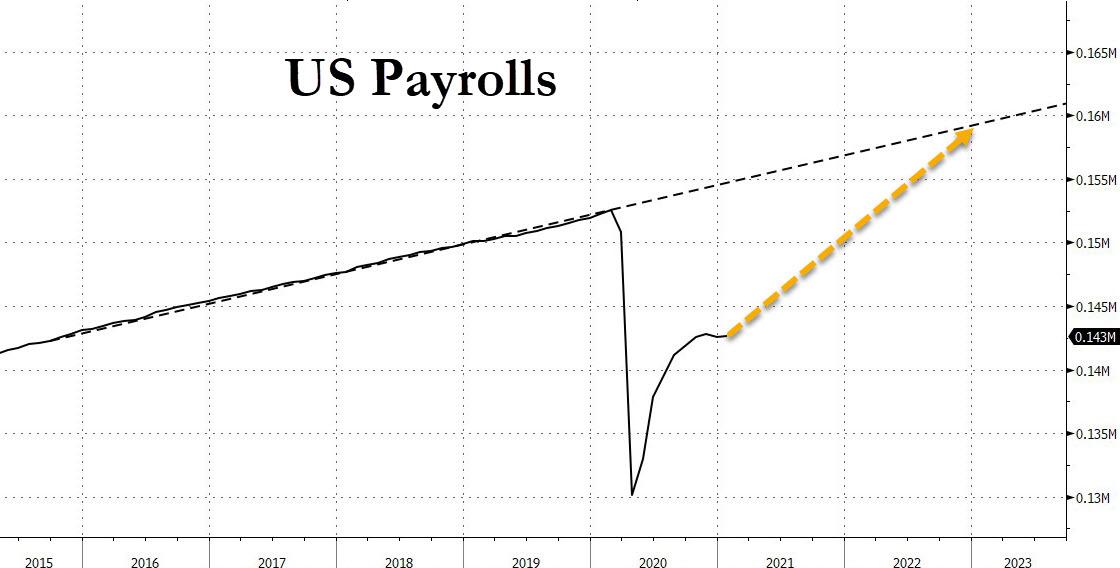 We took the under, saying that since "it is virtually assured that the US economy won't be adding half a million people per month for a long time, it is safe to assume that the Fed's rate hikes - as per Powell's guidance - have been put on indefinite hold."
JPMorgan's response: "hold our beer".
Well, in a note published by the bank's chief economist Michael Feroli in which he lays out JPM's top 10 takeaways in response to client questions "Where are markets headed as bond yields rise?" and writes that:
On March 1, J.P. Morgan Research hosted a virtual meeting featuring J.P. Morgan researchers to discuss the drivers of rising US Treasury yields and the implications across asset classes. We view last week's US Treasury sell-off as a "minor speed bump" and believe that it is too early to tighter financial conditions and the end of easy money. We remain confident in the commitments for sustained policy support that support the reflationary tilt. Our US Treasury strategist believes that a compromised market microstructure as key driver of last week's sell-off.
While we will leave it up to readers to decide if it is indeed the "compromised market microstructure" that is behind last week's selloff when traders realized just how far behind the inflationary curve the Fed is, what caught our eye is JPM's forecast about the near-term, with the bank projecting the impact of not only the upcoming $1.7 trillion Biden stimulus but also the next $300 billion in infrastructure spending. If JPM is right, the US economy is about to explode:
Disclaimer: Copyright ©2009-2021 ZeroHedge.com/ABC Media, LTD; All Rights Reserved. Zero Hedge is intended for Mature Audiences. Familiarize yourself with our legal and use policies every time ...
more