"It's A Constant Struggle": Cost Of Living Increases Are Decimating The Middle And Lower Class
While the government continues to peddle the CPI fairy tale and the true cost of living (as measured by real-world inflationary indicators like the Chapwood Index) appears to be closer to 10%, instead of 2%, the middle and lower class are bearing the brunt of the pain.
This was the topic of a new NPR piece that took a look at exactly why Americans were having trouble paying their expenses. What they found shouldn't surprise anyone: incomes were being vastly outpaced by the cost of living. "An unexpected bill is what separates millions of Americans from financial disaster," the piece says.
While some of this can be attributed to poor financial planning, some of it can also be attributed to an increasingly skewed playing field that's being created as a result of monetary policy.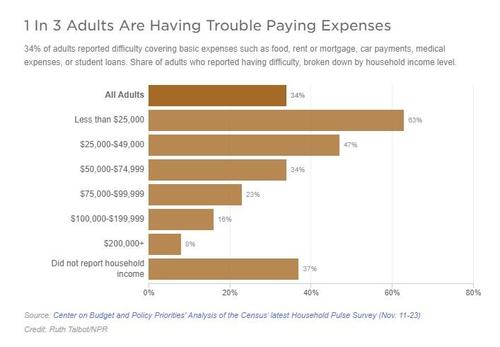 As of today, 33% of U.S. adults said they are having trouble paying for everyday costs. "Even some households making above $200,000 are straining to pay basic expenses," the report notes. For many families, it isn't just the pandemic that has put them in dire straits. More than 33% of Americans said they couldn't cover an unexpected $400 expense a year ago.
And in identifying the culprit, we're going to say something we rarely ever say: NPR nails it.
"For decades, U.S. wages have failed to keep pace with the rising costs of what many perceive as essential ingredients for a successful American life: good education and health care, a home and a family."
In other words, the true cost of inflation is vastly outpacing wages, as we have been saying for years. For example, last year, we posted what we called "The Inflation Chart That Explains Everything". In that article, we noted:
"Over the past 20 years, US prices of goods and services has gone up by 56% while wages have gone up by 95%, which sounds quite good. However, when we look beneath the headline, we find that hospital services and college tuition have gone by a whopping 208% and 186%, respectively. This is much higher than wage growth, and shows that key services that enable people to move up the social ladder are being priced out of their reach. On the flipside, the price of TVs, cellphone services and toys have collapsed, so people can at least distract themselves away from their social woes."
Disclaimer: Copyright ©2009-2020 ZeroHedge.com/ABC Media, LTD; All Rights Reserved. Zero Hedge is intended for Mature Audiences. Familiarize yourself with our legal and use policies every time ...
more