Is America Headed For A Post-Apocalyptic Currency Collapse?
Just when it seemed as though America may be turning the corner after months of lockdown… just when it seemed as though we were on a path to reopening and gradually returning to normalcy… just when the prospects of panic-induced social unrest seemed to be behind us…
…America's cities erupted into flames.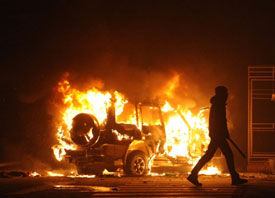 Antifa and BLM-organized rioting, looting, violence, and mayhem have pushed cities across the country into pandemonium. Even if the insurrections are soon quelled – as President Donald Trump promised to do in a speech in front of the White House on Monday – the consequences won't soon go away.
Some epidemiologists seized on the protests to predict a spike in the spread of the coronavirus due to the gathering of large crowds. They claim the "flattened" curve could begin to steepen all over again.
The "experts" may be wrong, as they have often been during this outbreak. The nationwide lockdowns and social distancing rules (beyond isolating the infected and protecting vulnerable populations such as those in nursing homes) may prove to have been "overkill."
The response to pandemic fears, including and especially the economic consequences, certainly contributed to driving some people over the edge. Pent up stress, frustration, boredom, alienation, fear, and other symptoms of cabin fever created the potential for a social conflagration.
Jeremy Boreing of the Daily Wire suggests that social chaos erupted in an 8-step process:
Instill fear
Lock people in their houses
Drive tens of millions out of work
Remove the pressure valves: Sports, Concerts, Bars, Theaters, Lunch with Friends...
Close the churches
Dehumanize through masking the healthy
Wait
Strike match...
The "match" was the death of a suspect named George Floyd. He had fentanyl and other drugs in his system and may have been charged with a relatively minor crime. A police officer appeared to use excessive force in pinning him down. Clearly, Floyd's death and the police actions that led to it deserved to be investigated.