Huge US Jobs Miss, But Don't Get Too Gloomy
Hiring in August slowed sharply as rising Covid cases and hospitalizations made consumers and businesses more cautious. The more positive spin would be that the underlying fundamentals are in good shape with businesses clearly wanting to hire, but they are struggling to find staff. Either way a September Fed taper looks unlikely.
Jobs miss as Covid rises
We have a huge downside miss for non-farm payrolls in August, coming in at 235k versus 733k consensus. There were 133k of upward revisions, but it is still far weaker than hoped. Coupled with the resurgence of Covid it likely removes any chance of a Fed September taper, but November still looks good.
Employment changes by sector through the pandemic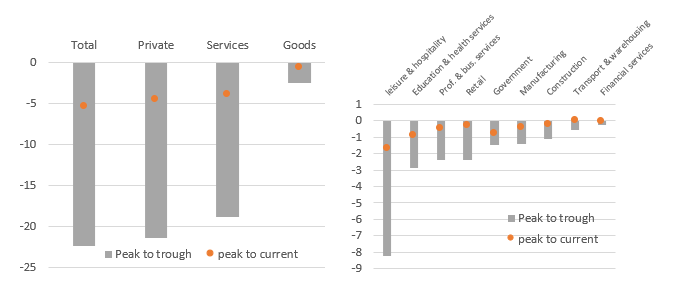 Macrobond, ING
Rising Covid cases have clearly impacted industries such as leisure and hospitality given the numbers we have seen on restaurant bookings and air travel and it is also evident in today's labour data with a net zero jobs in this sector created last month. Retail fell 29k while construction, government and temporary help supply were down a fraction. There is obviously the risk that September's report is soft as well given the virus case numbers and rising hospitalisations.
But a lack of workers is also a factor
However, before we get too gloomy we need to acknowledge that the household survey tells a better story with the unemployment rate dropping to 5.2% from 5.4% with household employment rising 509k. Meanwhile wages surged 0.6% month-on-month/4.3% year-on-year. This tallies with the narrative told by the National Federation of Independent Business (NFIB) data that firms want to hire, but there simply aren't the workers available and wages are being bid up as a result. Consequently if we do see the Covid case numbers settle down in the weeks ahead and importantly, labour supply increases, we are likely to see a significant re-acceleration in job creation.
NFIB shows small businesses are struggling hire and are paying up to do so
Disclaimer: This publication has been prepared by the Economic and Financial Analysis Division of ING Bank N.V. ("ING") solely for information purposes without regard to any ...
more