How High Could Inflation Soar In Coming Months... And What Will The Fed Do
While we have duly noted the soaring prices in the recent manufacturing and services ISM surveys, which earlier today rose to the highest level since 2008...
(Click on image to enlarge)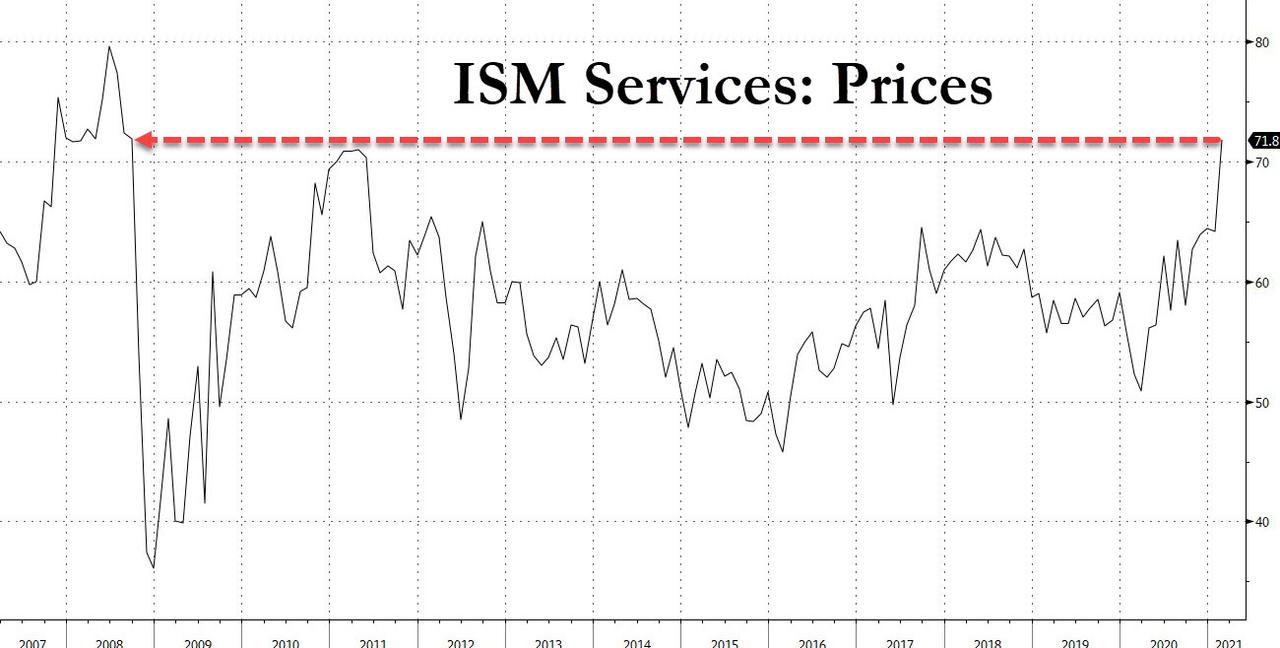 ... the reality is that these indexes don't do justice to the price panic on the ground. For that we check in on what some of the respondents were saying in the latest Mfg ISM, which were in a word - shocking:
"Things are now out of control. Everything is a mess, and we are seeing wide-scale shortages." (Electrical Equipment, Appliances & Components)
"Prices are rising so rapidly that many are wondering if [the situation] is sustainable. Shortages have the industry concerned for supply going forward, at least deep into the second quarter." (Wood Products)
"Prices are going up, and lead times are growing longer by the day. While business and backlog remain strong, the supply chain is going to be stretched very [thin] to keep up." (Machinery)
"Supply chains are depleted; inventories up and down the supply chain are empty. Lead times increasing, prices increasing, [and] demand increasing. Deep freeze in the Gulf Coast expected to extend duration of shortages." (Chemical Products)
"We have seen our new-order log increase by 40 percent over the last two months. We are overloaded with orders and do not have the personnel to get product out the door on schedule." (Primary Metals)
Yet while executives at virtually all businesses are now openly panicking about soaring input prices, the Fed is not perhaps because the central planners hope that the burst in prices will be temporary (a function of trillions in stimulus) as wages once again fail to rebound along with costs.
But is the Fed's complacent optimism justified? For the answer, we go to a report published overnight by Goldman economists which sees to "size inflation rises in a reopening boom" that is now set to take place in the next few months as covid is finally defeated.
Disclaimer: Copyright ©2009-2021 ZeroHedge.com/ABC Media, LTD; All Rights Reserved. Zero Hedge is intended for Mature Audiences. Familiarize yourself with our legal and use policies every time ...
more