Historical Post Pandemic Recovery Trends
The performance in high beta over the last 12 months is extreme, but also consistent with subsequent 12-mo periods after major lows. The issue historically has been the periods of consolidation after the initial rush higher pic.twitter.com/aEdizAxXC5

— Lawrence Hamtil (@lhamtil) March 1, 2021
This is an early cycle phenomenon that typically doesn't last long. We should see high beta start to outperform by less over the next few quarters. This time is much different than 2003 and 2010 though. We are seeing late cycle speculation which usually occurs before major tops. It's possible that high beta actually underperforms the market in the next year. Be careful of taking too much risk.
Not So Bad For State & Local
Typically, in recessions state and local governments take a massive revenue hit because people are out of work. This time the hit was much briefer than typical recessions. That's because the stimulus allowed state sales tax collection to fully recover by July. 2021 will be a boon for state sales tax generation because consumers will spend the money they have been saving. Furthermore, property tax collection stayed high. The only tax collection in decline as of December was income tax.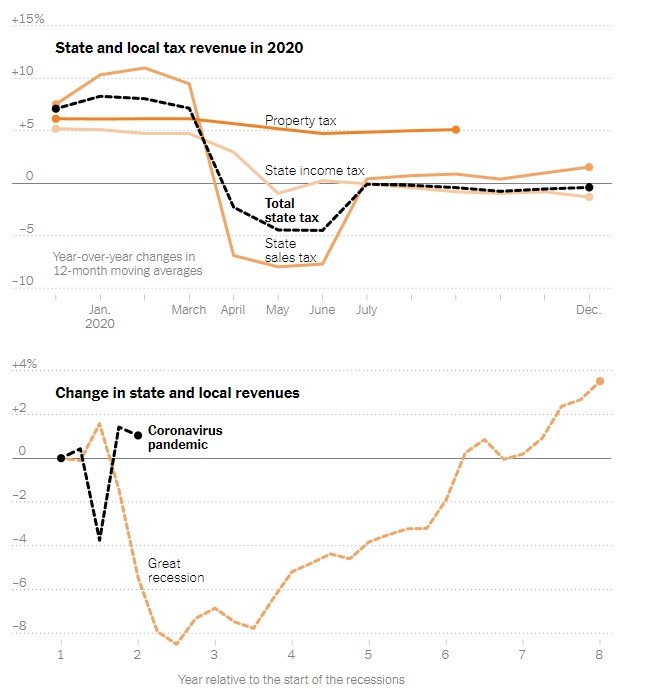 The results vary dramatically throughout the country. As you can see from the map below, Nevada had an 11.8% decline in tax revenue because it is highly exposed to the leisure and hospitality industry in Las Vegas. Tourism also took a hit in Florida as it was down 11.3%. On the other hand, California was up 1.2%. Once the pandemic is over, state and local governments shouldn't have a problem bringing back all the teachers they need for in person learning. Obviously, a lot of that has already begun.
California's surprise surplus is notable but several states have seen double-digit-percent revenue declines, like Texas and Florida. https://t.co/b0Lwmvi9XY pic.twitter.com/wDRJ6VUFpu

— Ernie Tedeschi (@ernietedeschi) March 1, 2021
Disclaimer: The content on this site is for general informational and entertainment purposes only and should not be construed as financial advice. You agree that any decision you make will be ...
more