Here Are All The "Technical Obstacles" Standing In The Way Of Global Corporate Tax Deal
Even after the G-7 struck a tentative deal during its recent meeting, a comprehensive reworking of the OECD's international tax framework - what would constitute the biggest shakeup on the international tax front in a century - will require the consent of dozens of nations, including countries like Ireland, Indonesia and Singapore which have successfully used their low tax rates to drive economic development. Any one of these can sabotage the deal by refusing to lower tax rates.
To try and compensate for this, the Biden Administration is promising foreign governments that they will be entitled to a bigger piece of the profits generated by American multinationals. The G-7 deal would have applied this "carrot" on "profit exceeding a 10% margin for the largest and most profitable multinational enterprises." There have even been talks to specifically exclude Amazon's low-margin e-commerce business, allowing the tax to be based on profits from its more lucrative divisions, like AWS.
Over the coming weeks, diplomats will hold talks involving more than 100 governments about the new corporate tax framework ahead of a G-20 meeting in July where Washington hopes the outlines of a deal can come together. For the plan to succeed, more than 100 nations would ultimately need to agree on it.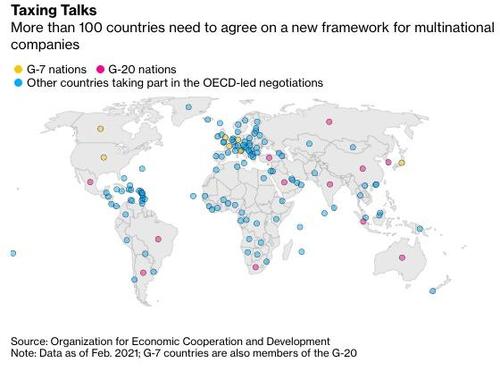 Source: Bloomberg
Given the staggering scope of competing interests involved, as corporations jockey to be excluded from the tax while countries jockey for all sorts of special interest carve-outs, Bloomberg reports that the process could ultimately take years - even as the administration pushes for a significant breakthrough by the end of the summer - and involve a complex web of legislation to compensate for myriad "technical" complications. These include:
Disclaimer: Copyright ©2009-2020 ZeroHedge.com/ABC Media, LTD; All Rights Reserved. Zero Hedge is intended for Mature Audiences. Familiarize yourself with our legal and use policies every ...
more