Goldman's Four Lessons From 2020
In what is likely his last note of the year, Goldman's chief economist Jan Hatzius takes a look at what 2020 has taught him about the economy and the practice of economic forecasting, and writes that "at this early stage, we see four lessons with potentially more general implications. First, incorporating real-time data into a standard GDP and employment framework can yield large benefits, especially in a crisis. Second, forecasters need to be flexible and eclectic in order to add value, especially in a crisis. Third, Keynesian policy prescriptions have now triumphed in two successive crises [ZH translation: one can always "fix" debt with more debt, until one day everything comes crashing down]. Fourth, people and market economies have a remarkable capacity to adapt.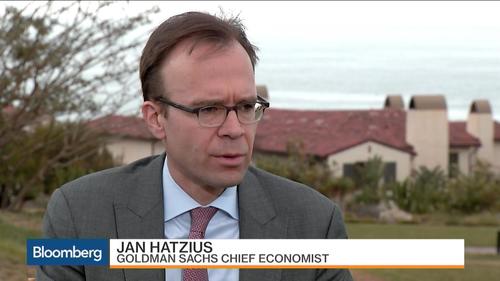 Amusingly, Hatzius starts off rather humble - for a change - admitting that pretty much everything he predicted a year ago would happen... was dead wrong:
We recently reviewed our ten questions for the US economy in 2020, the answers we gave a year ago, and what actually happened. Most of our answers were wrong because the pandemic pushed the economy into its deepest (though probably also shortest) recession on record.
Of course, to those managing money based on the bank's recomrndations and forecasts, this admission will hardly help offset the losses, but just so the introspective Goldman chief economist can demonstrate his true contrition for having been wrong again, he has published a note in which he promises that he has learned his lesson. Or rather four:
... while holding ourselves accountable for last year's predictions is always important, a more interesting question might be what we can learn from the way 2020 unfolded after the pandemic had appeared on the radar screen—from the earliest reported Chinese cases in January to the start of the global vaccination campaign in December.

At this early stage—and we emphasize that our conclusions might change once the pandemic is truly behind us—we see four lessons with broader implications for economic forecasting.
Said lessons are listed below, as follows:
1. The benefits of real-time data, which of course is actually useful compared to seasonally adjusted, goal-seeked and manipulated "government data" whose only purpose is political validation and propaganda.
When the pandemic hit China in January, we were slow to recognize its global scale. Well into February, we focused on the "spillover" effects from economic weakness in China on US growth, working through trade links, tourism, and supply chain disruptions. Only at the end of February—after the lockdowns in northern Italy—did we start to treat the virus like the global shock it was.

But that downgrade set the stage for a series of dramatic further cuts over the following month, as shown in Exhibit 1. At the same time, we held on to a relatively optimistic view of the shape of the rebound after the initial plunge, lifting our 2021 GDP growth forecast to far above-trend rates.
Disclaimer: Copyright ©2009-2020 ZeroHedge.com/ABC Media, LTD; All Rights Reserved. Zero Hedge is intended for Mature Audiences. Familiarize yourself with our legal and use policies every time ...
more