Global Doves Expire: A Hundred Years Of US IP Give Bond Market Another Win
But, as key economic accounts like IP and retail sales demonstrate, that may never have been true at any point. This downturn associated with Euro$ #4 goes back in some places to the early parts of 2018 – the same months when "overseas turmoil" first materialized in April and May (29). It's not overseas, just turmoil.
Germany, Japan, China, and the US. All are simultaneously showing signs consistent with recessionary forces. This is what I wrote back in September 2018 just before the market whirlwind:
From 2003 to 2009, it went: globally synchronized growth, decoupling, globally synchronized downturn. From 2010 to 2012, it went: globally synchronized growth, decoupling, globally synchronized downturn. From 2013 to 2016, it went: strong global growth (not synchronized), decoupling, synchronized downturn.

Last year to this year, it has gone: globally synchronized growth, decoupling. What comes next?
The point that eludes Jay Powell and the end-of-the-30-year-bond-bull crowd, the very spark of realization that ignited the market chaos, is that there never is any decoupling. Like an outbreak of disease, once the monetary malady starts it will eventually contaminate everything. And like any epidemic, some survive infection with less harm while others are not so fortunate.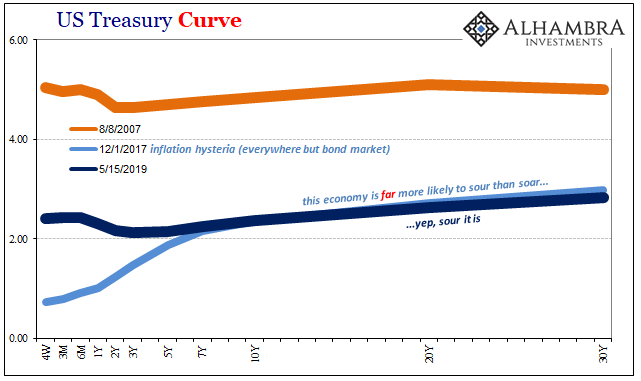 In other words, the bond market is being proved right not just about curve inversion over the last several months but going back years. In 2017, during the very height of inflation hysteria, the bond market stood back and said, NO. The flattened curves more importantly flattening where they were, around 3% nominal, were unyielding about the economy's chances.
No matter Janet Yellen and Mario Draghi. Pay no attention to the unemployment rate. More likely to sour than soar.
This is not what Economists had in mind for globally synchronized growth. It is, however, what the eurodollar has always had in mind. A chronic condition which will only leave the global economy highly susceptible to reverse. No recovery will be possible. Trust the curves.
Disclosure: This material has been distributed for informational purposes only. It is the opinion of the author and should not be considered as investment advice or a recommendation of any ...
more