Global Doves Expire: A Hundred Years Of US IP Give Bond Market Another Win
In several key components, however, the minus signs have shown up. Manufacturing production, for example, has also been lower in three of the past four months, too. It's slump dates back to last September. Over that eight-month period up to and including April, IP Manufacturing is down at a 1.3% annual rate. When compared to April 2018, the manufacturing index is just a slight fraction negative.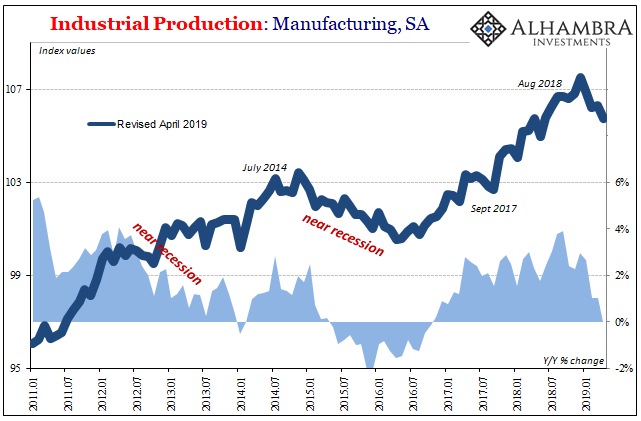 In terms of the production of consumer goods, the numbers get much worse. The level of output peaked one year ago back last April. Since then, up to April 2019, the index for IP Consumer goods has fallen by 2.5%. That's the largest decline since 2012 (below).
It backs up the retail sales figures which have been suggesting consumer spending is increasing at levels more associated with recession than anything else. This is also consistent with GDP data for Q1 which, despite the headline, indicated a substantial and substantially unwanted accumulation of inventory.
Sales tail off, inventory piles up, production levels are curtailed. Classic recession pattern.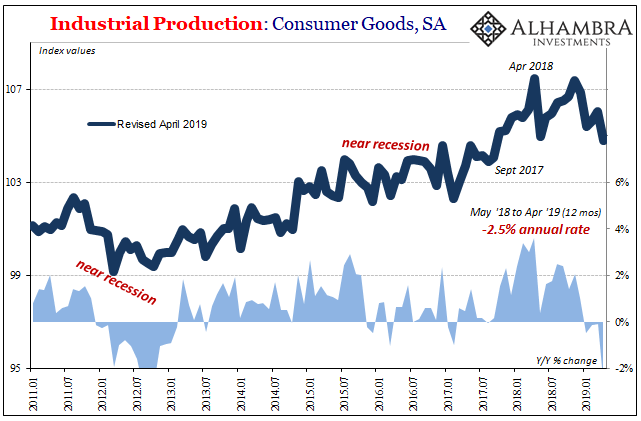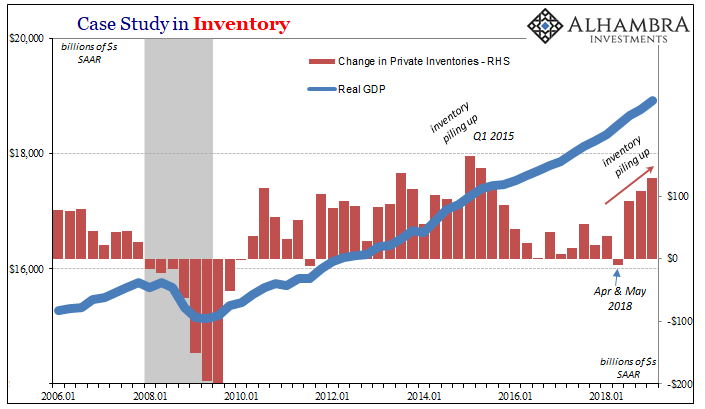 When total IP is contracting, you can be sure it's very serious. Before 2015, it had always meant recession beyond a certain threshold. That level was met during the "manufacturing recession" of Euro$ #3. It remains the only time when a significant decline in IP over more than a few months didn't coincide with an NBER dating.
Euro$ #4 appears to be even more serious still. During the last one, much of the negative monetary focus globally fell upon Asia and China in particular. The US was lucky, as was Europe, spared the full weight of the disruption which truly devastated a lot of EM countries. They've yet to recover, a significant factor beyond the growing economic costs.
This time, there may be no safe harbors. For much of last year, the same decoupling fantasy as 2015-16 was reused; the US boom would protect the American economy from suffering the same weakness elsewhere which was being recognized even by central bankers.
Disclosure: This material has been distributed for informational purposes only. It is the opinion of the author and should not be considered as investment advice or a recommendation of any ...
more