FOMC Warns Recovery, Job Market Has "Moderated"
Since the last FOMC meeting, on December 16th, stocks are clinging to gains as bonds have lost the most with gold and the dollar firmly unchanged...
(Click on image to enlarge)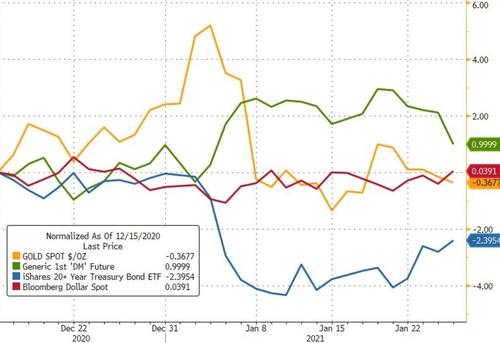 Source: Bloomberg
However, while the 'traditional' asset classes have been somewhat stagnant, Bitcoin is up 50% since the last Fed meeting (and was up over 115% at its highs)...
(Click on image to enlarge)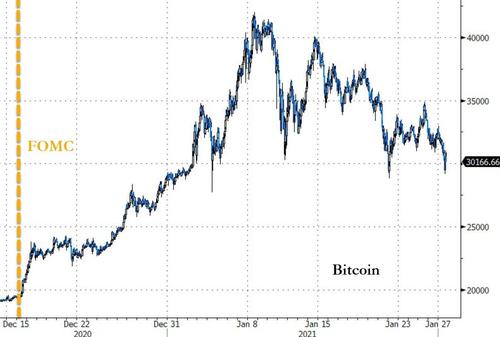 Source: Bloomberg
Also, real yields are marginally lower (more negative) since the December Fed.
(Click on image to enlarge)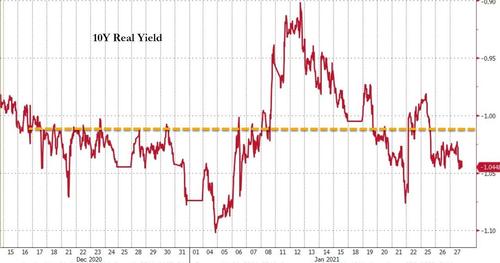 Source: Bloomberg
And after all that, unlike the quite exciting December FOMC meeting, the consensus among economists was that the January FOMC meeting should be fairly quiet.
We suspect it will be more of this...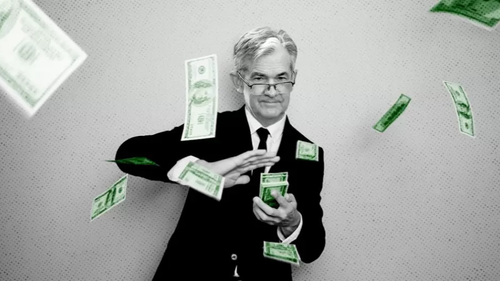 Of course, everyone will be focused on any mentions of tapering (or heaven forbid, rate hikes). Since introducing forward guidance for its asset purchase policy in December, FOMC members have provided a range of possibilities for when the Fed might start tapering asset purchases. A few of the regional Fed presidents mentioned the possibility of pulling back asset purchases later this year, but key members of the FOMC have pushed back on an early tapering.
Most economists see a taper starting in 2022, either in the first quarter or the second, according to a Bloomberg survey. And 88% of respondents said tapering would indeed be the Fed's next move when it comes to the bond purchases. Only 12% saw an increase to the pace, currently at $120 billion a month.
(Click on image to enlarge)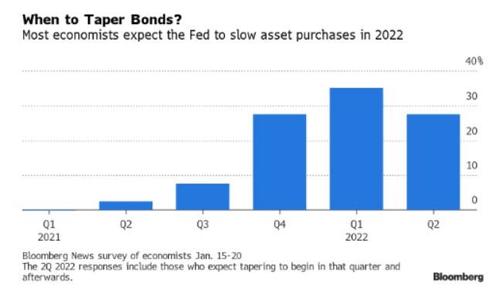 Source: Bloomberg
Summing up expectations - Rates unch, bond-buying unch, and no economic forecast updates.
So what did they say?
The Fed is a little less optimistic:
"The pace of the recovery in economic activity and employment has moderated in recent months, with weakness concentrated in the sectors most adversely affected by the pandemic"