Fed's Reverse Repo Hits All-Time High $485BN As Reserves Flood System
We knew it would be a crazy day for today's reverse repo early this morning, when the overnight GCF repo rate traded at -0.01% and refused to rise, an indication that there was far too much money chasing good collateral.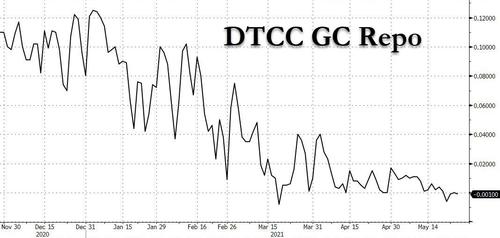 Looking at the scramble for repo, inter broker dealer Wrightson ICAP said on Thursday morning that it saw Reverse Repo volumes rising to around $470 billion Thursday, though the risks are "still tilted to the high side".
They were because moments ago the Fed announced that at 1:15 pm some 50 counterparties (up from 46 on Wednesday) parked $485.329BN in reserves with the Fed (in exchange for the generous rate of 0.000%), which was up $35BN overnight, up $134BN in the past week, and the highest on record!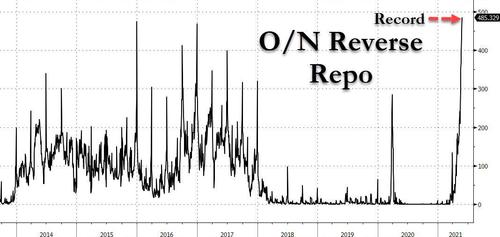 Why does this matter? Three reasons, all of which we explained in extensive detail in "Fed Alert: Overnight Reverse Repo Usage Soars Above Covid Crisis Highs", Repo Crisis Looms: Fed's Reverse Repo Usage Soars To $351BN, Fifth Highest Ever, and Zoltan On The Coming QE Endgame: "Banks Have No More Space For Reserves",
The Fed is taking Treasurys out of the market through QE purchases and putting them right back in via the RRP as the central bank is now chasing its own tail as it monetizes so much US debt it has no place where to park the reserves it creates out of thin air
The heavy use of the o/n RRP facility tells us that foreign banks too are now chock-full of reserves.
Banks don't have the balance sheet to warehouse any more reserves at current spread levels.
And now that everyone is once again a reverse repo expert...
we are weeks away from everyone turning into a reverse repo expert again

— zerohedge (@zerohedge) May 19, 2021
... Bloomberg writes that "the glut at the front-end has been spurred by the central bank's ongoing asset-purchase program, commonly referred to as quantitative easing, as well the drawdown of the Treasury's general account. The latter has been driven by the looming debt-ceiling reinstatement, which is due to take place at the end of July, and the flow of pandemic stimulus funds to taxpayers." Additionally, Federal relief payments to state and local municipalities are also adding to the glut, and that is being exacerbated as regulatory constraints encourage banks to turn away deposits, directing that cash into money-market funds.
Disclosure: Copyright ©2009-2021 ZeroHedge.com/ABC Media, LTD; All Rights Reserved. Zero Hedge is intended for Mature Audiences. Familiarize yourself with our legal and use policies ...
more