Fed's Liquidity Bomb Pushes Key Benchmark Rate Closer To Zero
One month after the Fed's key benchmark "administered" rate - the effective Fed Funds rate - hit the second-lowest on record, or 0.05%, only to stage a modest increase for in the month of May when it traded at 0.06% for most of the month, overnight the closely watched EFF dipped once again, inching back closer to zero overnight, and is just 1 basis point away from the lowest print ever.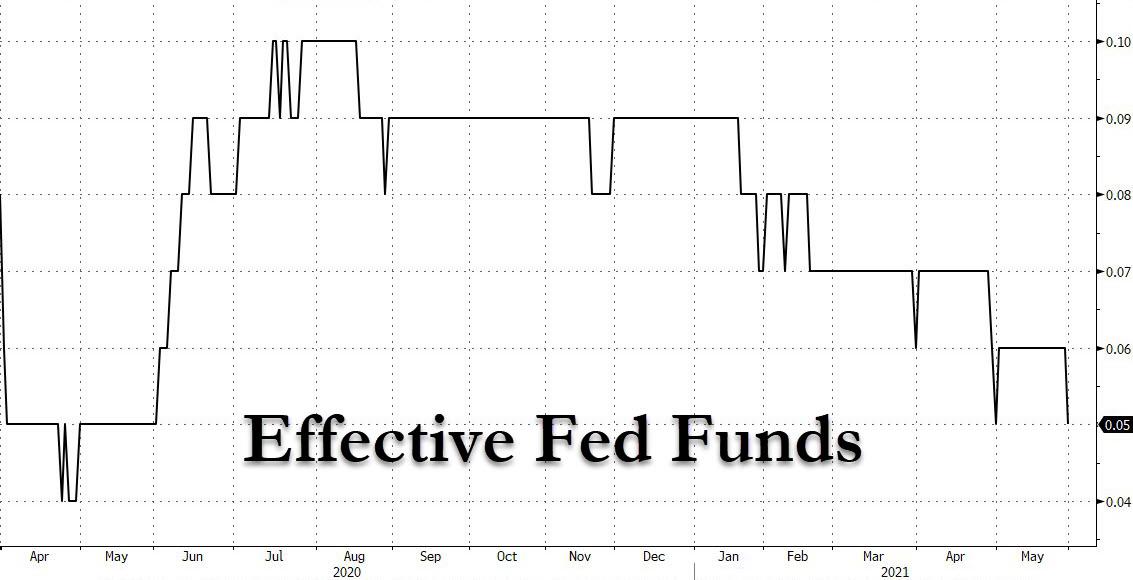 The effective fed funds rate, which the central bank is currently aiming to keep within a range of 0% to 0.25%, slipped by 1 basis point to 0.05% on May 28, the lowest since April. A chronically lower level in the EFF raises the possibility that the bank will tweak the rates it sets for interest on excess reserves and its reverse repurchase agreement facility, although according to Goldman simply raising the IOER will not be as effective in raising both the RRP and IOER rates. If the Fed did move both rates up by 5bp, Goldman's model suggests that Fed funds and SOFR would move up to 8bp and 5bp respectively.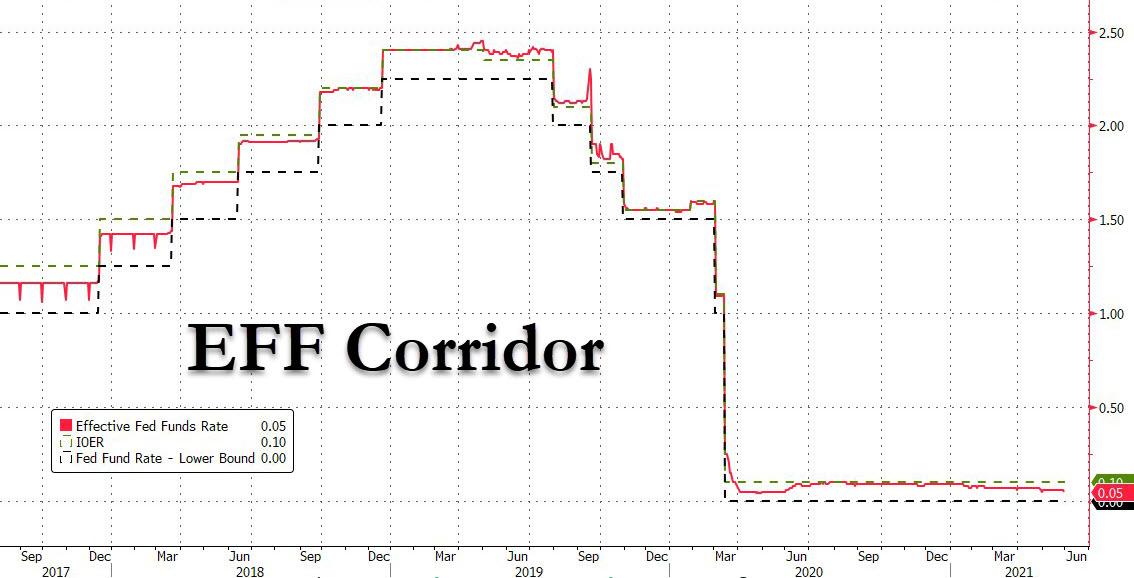 The decline was largely expected and is yet another manifestation of the record liquidity glut that last week pushed usage on the Fed's reverse repo to $485 billion, the highest on record.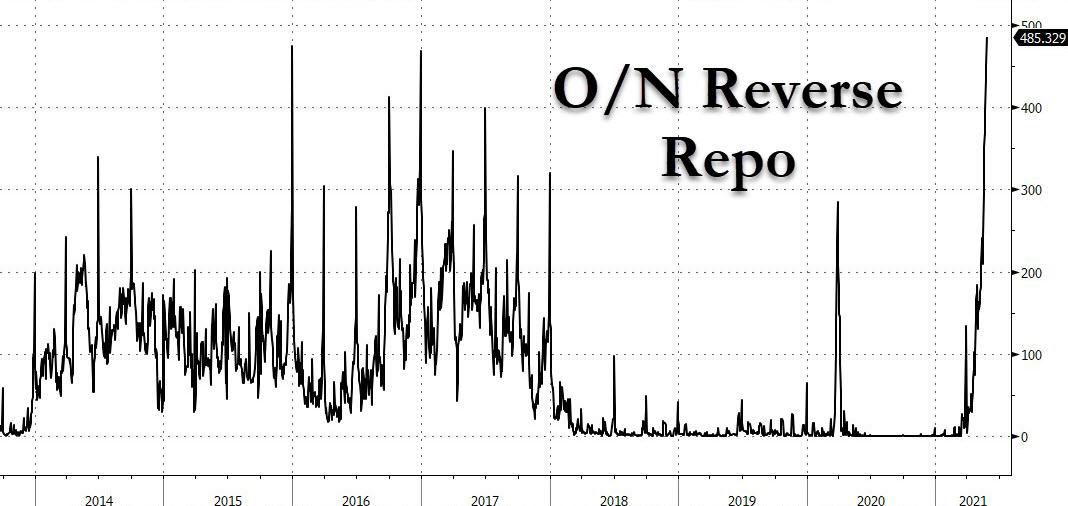 The combination of record-high overnight Reverse Repo usage and (almost) record low effective fed funds, is a combination of two things: the tidal wave of cash - a function of continued expansion of the Fed's balance sheet (from QE) and a simultaneous reduction in cash balances in the Treasury General Account (TGA) at the Fed - which we have discussed extensively here in recent months, and which is keeping downward pressure on short-end rates as investors scramble to find some collateral in which to park reserves, combines with rising inflation concerns which fuel speculation about when the Fed will take its foot off the accelerator and taper.
The decline in the EFF means that an adjustment to these administered rates is now almost guaranteed, according to Wrightson ICAP economist Lou Crandall, who however said that there's less of a chance the bank will make a balance sheet adjustment "to address the root of the problem." He also sees it potentially being smaller than similar prior tweaks. In other words, a 5bps hike in the IOER is now on the table. And, to be sure, the latest FOMC minutes explicitly said that downward pressure on overnight rates in the coming months could warrant consideration of a modest adjustment to administered rates.
Disclosure: Copyright ©2009-2021 ZeroHedge.com/ABC Media, LTD; All Rights Reserved. Zero Hedge is intended for Mature Audiences. Familiarize yourself with our legal and use policies ...
more