Factors In Unemployment Dynamics
The U.S. unemployment rate averaged 8.4% during the first five years of recovery from the Great Recession of 2007-2009, the weakest recovery on record (see Figure 1). But as the expansion continued, unemployment continued to decline and by 2018 reached the lowest levels in almost half a century. Why did unemployment remain so high for so long, and what factors contributed to the recent lows?
Figure 1: U.S. unemployment rate (%), 1948:1 to 2018:7 and U.S. recessions (shaded)

Source: U.S. Bureau of Labor Statistics.
One of the most striking features of the length of time people stay unemployed is the heterogeneity across the experience of different people. Most people who become unemployed find a new job relatively quickly. Even during the Great Recession, of people who were newly unemployed in month t, on average only 64% were still unemployed in month t + 1. By contrast, if someone has been unemployed for 4-6 months as of month t, on average since 1976, there was an 81% probability that they would still be unemployed in month t + 1. The lowest the latter probability ever got in any month from 1976 to 2018 was 71%. In other words, the newly unemployed during the Great Recession had better success finding jobs than did the long-term unemployed during the strongest economic boom.
Why do the long-term unemployed have such a dramatically lower probability of exiting unemployment? One possibility is that the experience of being unemployed directly changes the individual. Loss of job experience or discrimination by potential employers could lead to a lower likelihood of being hired. A field experiment by Kroft, Lange and Notowidigdo (2013) found some evidence of discrimination against the long-term unemployed. However, an audit study by Farber, Silverman, and von Wachter (2015) found no relation between unemployment duration and employer call-back rates, and Jarosch and Pilossoph (2018) demonstrated that findings of discrimination like those of Kroft, Lange and Notowidigdo (2013) could readily be explained by true ability differences across individuals that are signaled by longer spells of unemployment.
Another factor accounting for the differences in the unemployment-continuation probabilities between the newly unemployed and the long-term unemployed is unobserved heterogeneity. Suppose some individuals start out with a high probability of exiting unemployment and others with a lower probability. As we look at a pool of individuals who have been looking for work for n months, the latter individuals will make up a larger fraction of the pool as n increases, accounting for the observed tendency of the unemployment-continuation probability to increase with n. Suppose for example that 80% of the newly unemployed (whom we will call type H) have a continuation probability of 35% and the remaining 20% (type L) have a continuation probability of 85%. Figure 2 tracks the number of individuals Un who are still unemployed at each duration n along with the average unemployment-continuation probability predicted for each group. As n increases, type L make up a larger share of the remaining group of unemployed, causing the average unemployment-continuation probability to rise with n.
Figure 2: Ex ante heterogeneity can cause observed unemployment-continuation probabilities to increase with duration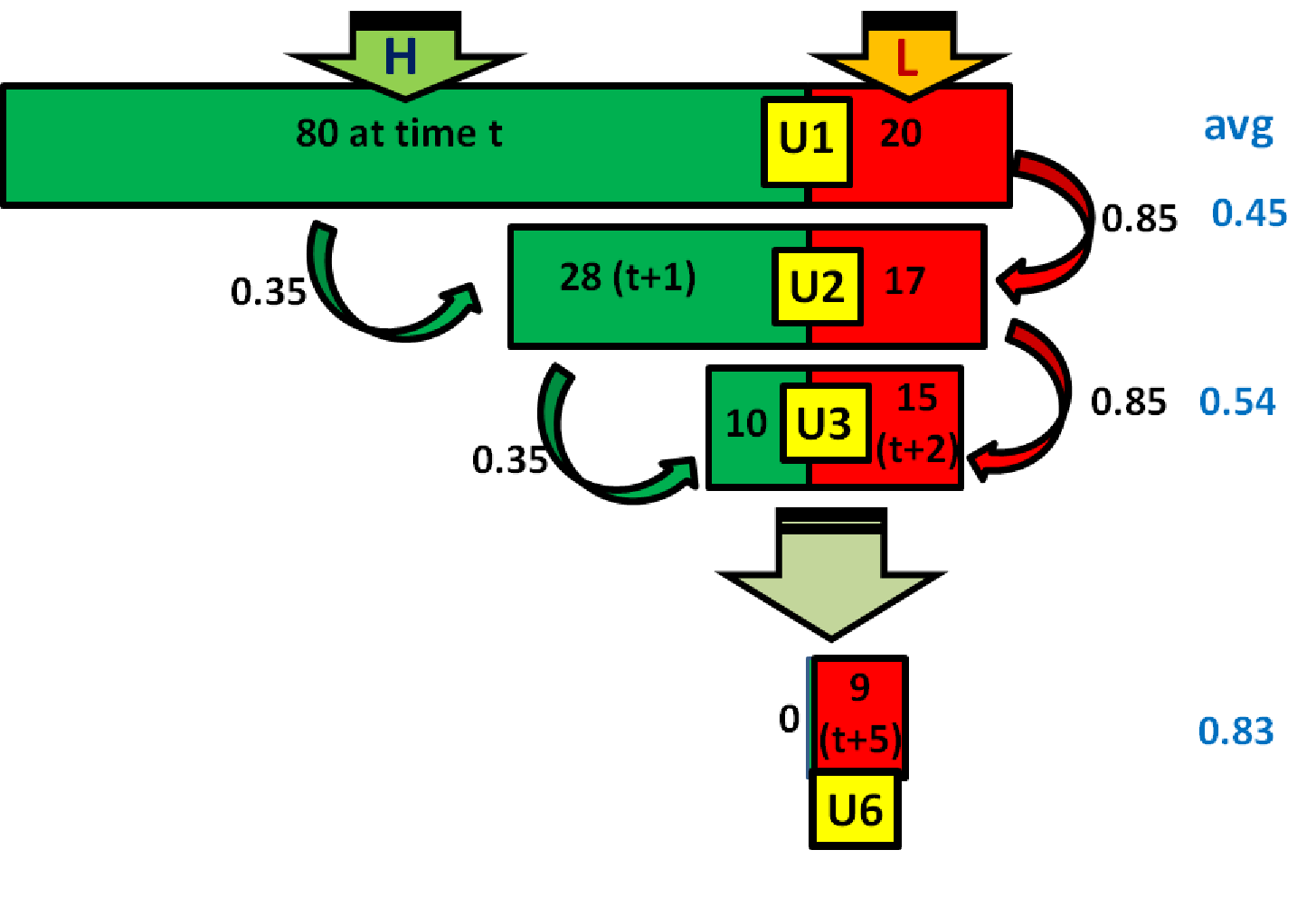 Source: Ahn and Hamilton (forthcoming).
The numbers in Figure 2 were calibrated to match the average continuation probabilities observed for each group n since 1976. We could alternatively choose to match the average numbers observed during and right after the Great Recession (2007:12 to 2013:12). When we do this, we impute a slight increase in the continuation probability of type L individuals (from 85% to 89%) and a big increase in the fraction of type L among the newly unemployed (from 20% to 32%), as seen in Figure 3.
Figure 3: The major change during 2007:12 through 2013:12 was more inflows of type L individuals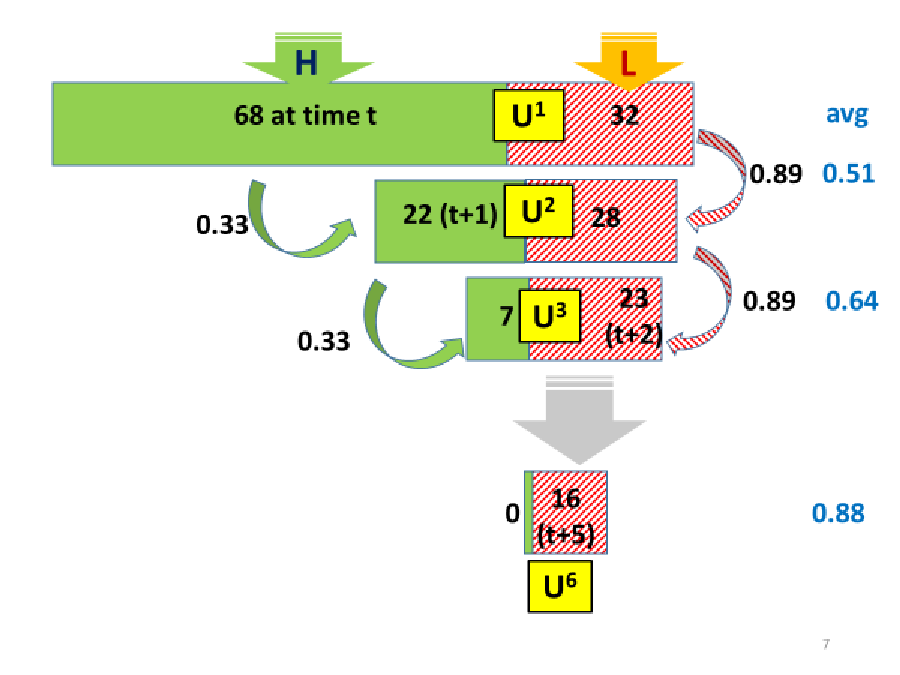 Source: Numbers represent new inflows and unemployment-continuation probabilities calibrated to average counts of unemployed by duration over 2007:12 through 2013:12. Calculated using parameters in row 7 of Ahn and Hamilton (forthcoming).
Disclaimer: FEDS Notes are articles in which Board economists offer their own views and present analysis on a range of topics in economics and finance. These articles are shorter and less technically ...
more