EPS Expectations Are Very High
The housing market is hot because of low interest rates and demographics (millennials turning 30). Those are the main catalysts. The secondary catalysts are people buying 2nd homes and investors entering the market. As you can see from the top chart below, there was a large spike in 2nd home buying a few months into the pandemic. People wanted to buy a 2nd home to get away from the city where the pandemic spread the quickest.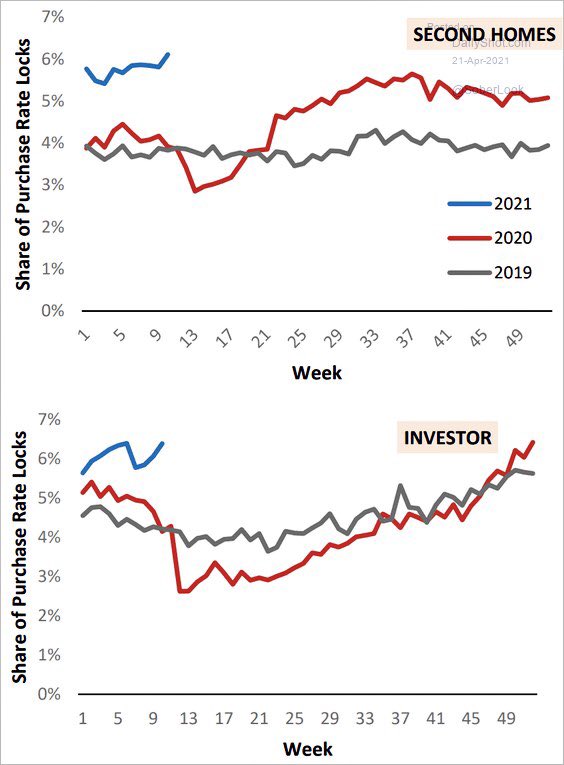 For some people, this was very reactionary. They even bought houses sight unseen. It was/is a mad dash to buy a house which probably wasn't the smartest idea. Buying a house takes a lot of planning. There is no reason to buy a house just to escape the city unless you plan on it being a long term move. You should keep a house for at least 7 years if you plan to buy it, as a rule of thumb. 12 months ago, some probably didn't realize this pandemic wasn't going to last many years. It became the new normal; people adapted.
The share of 2nd home purchases has spiked to about 6% which is a little over a 2% increase from 2019 levels. Furthermore, the share of investors buying homes has increased in the past few months. This has been more delayed than the spike in 2nd home buying. It only got above 2019 levels at the end of last year. These are people who are late to the game. Investments become the most popular after large moves. It's probably not a great time to buy a house for investment purposes given the spike in prices. Location is always the most important aspect of real estate investing, but if rates were to spike almost every area would see a correction. Absent a very large spike in rates, we will only see a decline in the rate of price growth, not absolute declines.
Consumer Spending Growth Decelerates
Spending growth is declining quickly because it never could keep that pace up. The April retail sales report will be fantastic. Month over month growth will definitely fall in May. We can't look at yearly growth because the comps are about to get much harder compared to where they were a few weeks ago. However, 2 year growth is also slowing rapidly. As you can see from the chart below, ex-auto Bank of America card spending growth over 2019 levels has fallen to just 18%. That's still very strong though. We'd be impressed to see double digit (2 year) growth in the next few months.
Disclaimer: The content in this article is for general informational and entertainment purposes only and should not be construed as financial advice. You agree that any decision you make will be ...
more