Davos Man - Misbegotten Progeny Of Keynesian Central Bankers
There were a reported 119 billionaires attending the Davos confab this year – plus the Donald, who took a day off from Impeachment to address this august gathering of the world's movers and shakers.
There was also 1500 private jets crowding the surrounding airports – plus the notable train-traveling 17-year old expert on planetary climate science, Greta Thunberg.
Also, among the 10 billionaires in attendance from communist China is Ren Zhenfei, founder of Huawei and father of its CFO, Meng Wanzhou. Even as dad courts the rich and famous on the slopes, daughter languishes in a Canadian jail waiting extradition to the US because she had the audacity to do business with Iran against Washington's instructions and Trump's latest fatwa against the Tehran government.

These odd juxtapositions plus countless more got us to thinking about Davos Man himself and the ultimate juxtaposition of our times.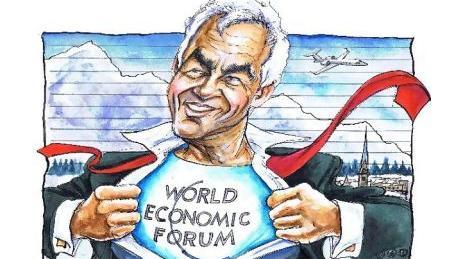 To wit, the combined net worth of the world's billionaires in the year 2000 was $1 trillion, according to Forbes, but at this bublicious moment that number is reckoned at just under $10 trillion. So the 2,150 members of the Billionaires Club now have more net worth than 60% of the world's population combined. That's 4.6 billion people!
In so noting, of course, we are not joining the Bernie Sanders/AOC/Pocahontas brigade. In a world of free markets, honest money and de minimis government, the more billionaires the better. But what we sincerely doubt is that there was an honest and sustainable basis for a 10X gain in the net worth of the Billionaires Club over a two decade period when the world's nominal GDP only rose from $35 trillion to $85 trillion, or by 2.4X.
After all, the predominately financial assets comprising the world's net worth are merely the capitalization of its underlying income or GDP. And there is no basis in either sound economics or basic math for the former to grow nearly four times faster than the latter for two decades running.
Stated differently, unless the age-old laws of sound money have been repealed by the economic gods themselves, Davos Man is fixing to become nearly as rare as Neanderthal Man or, more to the point, has been a case of Piltdown Man all along.
Recall that the latter had been touted by some British scoundrels in 1912 to be a 500,000 year-old homo sapiens and evolution's missing link. Alas, it was actually a ho-hum 50,000 year-old human skeleton fused with the jawbone and teeth of a modern orangutan.