A $50 Billion Hole Emerges In Trump's China Trade Deal
Now that the dust has settled on the US-China trade deal and analysts have had some time to pore over its 90+ pages, various chapters and (non-binding) terms that comprise the body of the agreement, one high-level observation noted by Rabobank, is that the agreement foresees the total amount of goods exports from the US to China to reach above $ 290BN by end-2021. The implication of this is that the chart for US exports to China should basically look like this for the next two years:
(Click on image to enlarge)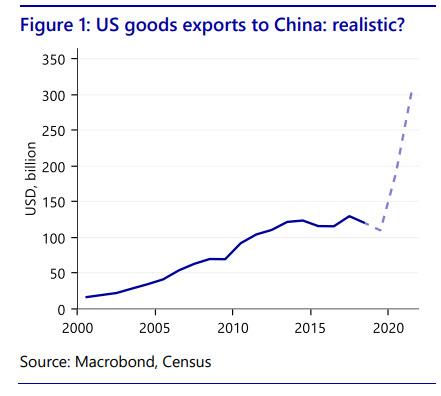 As Rabobank's senior economist Bjorn Giesbergen writes, there are probably very few economists that would deem such a trajectory feasible (except for the perpetually cheerful economics team at Goldman, of course), seeing that it took the US more than 15 years to raise exports from around USD16bn in 2000 to USD 130bn in 2017. Moreover, the Chinese purchases of goods are beneficial to US companies, but at the cost of other countries, and the agreement is only for two years. If China will buy more aircraft from the US, that could be to the detriment of the EU.
According to the document "the parties project that the trajectory of increases … will continue in calendar years 2020 through 2025." But "to project" does not sound as firm as "shall ensure." So, as the Rabo economist asks, "are we going to see a repetition of the 2019turmoil caused by the phase 1 trade negotiations after those two years? Or is this supposed to be solved in the phase 2 deal that is very unlikely to be made? What's more, while the remaining tariffs provide leverage for US trade negotiators, they are still a tax on US importers and US consumers of Chinese goods."
But before we even get there, going back to the chart shown above, Bloomberg today points out something we have pointed out in the past, namely that China's $200 billion, two-year spending spree negotiated with the Trump administration appears increasingly difficult to deliver, and now a $50 billion "hole" appears to have opened up: that is the amount of U.S. exports annually left out and many American businesses still uncertain about just what the expectations are.
Disclosure: Copyright ©2009-2020 ZeroHedge.com/ABC Media, LTD; All Rights Reserved. Zero Hedge is intended for Mature Audiences. Familiarize yourself with our legal and use policies every ...
more