Economic Herd Immunity Will Take Awhile
2.3 million age 65+ in congregate living arrangements
22 million essential workers not already in other categories
… which adds up to about 144 million people. Total US population is about 330 million, so close to 56% of us are not in the initial groups. We'll be safer but not safe, because 144 million probably isn't enough for herd immunity. The virus may still be spreading.

Super September
Next question: How soon can we vaccinate that many people? Several constraints will dictate the answer. One is how fast Pfizer (PFE) and Moderna (MRNA) can produce vaccine doses, and it appears to be taking longer than initially thought. There may be 35–40 million doses available by year-end. Since each patient needs two, that's enough for 20 million people.
Dr. Bob Wachter of University of California, San Francisco, reviewed the production schedules and estimates the US can vaccinate 150 million people by June and the entire country by December. He made this handy chart to show the progression.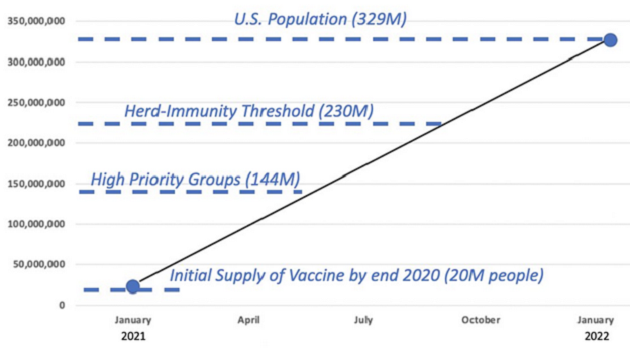 Source: Bob Wachter, MD
If this is right, and you are an American not in one of the groups listed above, you won't get the vaccine until June at best, and probably later.
The good news is we should reach herd immunity (which Dr. Wachter thinks is around 70%) by September 2021. It might be a little sooner, depending on how much immunity there is in the large (and still growing) population who were infected and survived.
But one way or the other, by year-end the vast majority of Americans should be safe from COVID-19. Everybody who wants a vaccine should have had a chance to get it. Some will resist but Wachter thinks they will be a relatively small number.
But economically, that's not the end.

Best Customers Last
This vaccination timing matters to the economy. It means that all our current precautions—masks, crowd restrictions, capacity limits—all those things will continue for at least six more months, and probably longer. That's the best case.