Did You Make Janet Yellen Rich?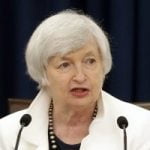 Up until the WallStreetBets crowd short squeezed Melvin Capital for a $7 billion loss, Robinhood had it made. But losing billions is stressful. And when your product blows up your customer the clucking that follows comes hot and heavy.
One of the sweetest displays in the world, we've been told, is the bursts of digital confetti that shower down Robinhood's investment app to celebrate the purchase of stocks, options, and cryptocurrencies. These digital confetti bursts – in addition to spinning prices and scratch off rewards – are great entertainment. So, too, is watching the price of bitcoin quoted in neon pink. It just screams buy!
Trading on Robinhood is designed to be both fun and exciting. There are even freebie alerts. It's like playing Candy Crush. Only the score is kept in dollars and cents. And with a little practice, you can strike it rich.
The clucking for Robinhood CEO, Vlad Tenev, began on Thursday, January 28, at 3:30, am Pacific Time. That's when the National Securities Clearing Corporation (NSCC) informed his company that it had to put up $3 billion. According to Tenev, that's "an order of magnitude more than what it typically is."
But Tenev and the fellows at the NSCC handled the situation like professionals. After several early morning phone calls, they came to a nifty agreement…
Robinhood would provide $700 million. In lieu of the remaining funds, the company would restrict buying – and digital confetti bursts – of the WallStreetBets-fueled rocket launch of GameStop, AMC, and several other heavily shorted stocks. That's when the clucking really began.
The Ultimate Catch
The promise of something for free will always be an enticing marketing ploy. Years ago, for example, when opening a new bank account at your local thrift, they'd kick in a free toaster. Robinhood took this marketing strategy and adapted it to the digital age.