Weekly US Dollar Fundamental Forecast: Down, But Not Out
First, the December US inflation report on Wednesday is expected to show a mixed picture, with some measures of price pressures falling while others are set to rise; but without any expected swings greater than +/-0.1%, and yearly readings set to stay below +2%, there may not be significant price action thereafter. Second, the December US retail sales report on Friday is likely to mirror the weakness seen in the December US jobs report, with a third consecutive month of contracting sales anticipated.
For full data forecasts as well as time and dates for Fed speechs, view the DailyFX economic calendar.
ATLANTA FED GDPNOW Q4'20 GROWTH ESTIMATE (JANUARY 8, 2021) (CHART 1)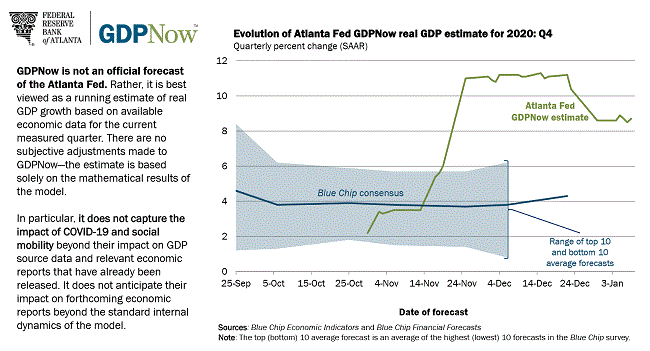 Based on the data received thus far about Q4'20, the Atlanta Fed GDPNow forecast is looking for growth at +8.7% annualized. But the estimate has fallen in recent weeks, from a peak north of +11% in mid-December; there are been a significant deceleration in growth expectations. Meanwhile, the Blue Chip estimate has been much more dour, projecting between a +4-5% annualized growth rate for the past several weeks. The next Q4'20 Atlanta Fed GDPNow forecast will be released on Friday, January 15.
FEDERAL RESERVE INTEREST RATE EXPECTATIONS (JANUARY 8, 2021) (TABLE 1)
The Federal Reserve has been clear in its intent to keep its main rate low through 2023. But talk in recent days among Fed policymakers have brought forth some early concerns about tapering of the bond buying program, in effect a discussion about the timetable for ending quantitative easing. Fed funds futures are responding slowly, with odds of a rate hike in 2021 rising to 4% from 0% over the course of the week.
Fears of another 'taper tantrum' a la 2013 have started to wake up, with long-end US Treasury yields rising (notably, the 10-year yield moving back above 1%). Although Fed policymakers won't be moving on interest rates in an official capacity, we'll see if this week's coming slate of Fed speeches produce more early taper tantrum-like reactions across the curve.