Weekly US Dollar Fundamental Forecast: Down, But Not Out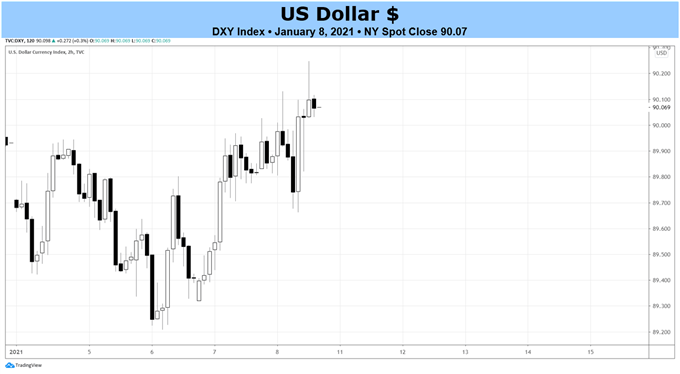 FUNDAMENTAL FORECAST FOR THE US DOLLAR: NEUTRAL
The US Dollar (via the DXY Index) finished the week higher, even as the December US jobs report came in worse than expected with the first jobs loss since April.
Five speeches by Federal Reserve policymakers, including one by Fed Chair Jerome Powell, will likely draw just as much attention as the two 'high' rated data releases on the forex economic calendar, the December US inflation report (CPI) and the December US retail sales report.
The IG Client Sentiment Index shows that retail traders are moderating their positioning in both EUR/USD and USD/JPY rates, suggesting more USD gains could be ahead.
US DOLLAR ROUNDING THE TURN
The US Dollar (via the DXY Index) broke its 2020 lows during the first trading week of 2021, and yet, the broad greenback gauge still managed to finish the week higher. While the +0.19% gain for the DXY Index seems meager, it coincides with a break of the November-December 2020 downtrend amid the worst US jobs report since April. US Dollar resiliency in the face of otherwise bad news – weak US labor market data implicitly boosts odds for more stimulus, fiscal or monetary – simply can't be dismissed. Even if the longer-term view for the US Dollar remains bearish, the near-term environment may cater to more gains in the coming sessions.
US ECONOMIC CALENDAR GETS BUSIER
The economic calendar during the second week of January will provide some key insights into the US economy, which appears to have backtracked in November and December. Coupled with five speeches from Federal Reserve policymakers, including one from Fed Chair Jerome Powell, it's likely that the US Dollar sees several instances of heightened event risk over the course of the week. For the Fed speakers, we're watching to see if their comments further instigate taper tantrum concerns (see more below).