US Dollar Treading Water As Central Banks Follow Fed In Race To Bottom - Central Bank Weekly
Volatility is back in FX markets, and that's largely due to the machinations and meddling of central banks. As the US-China trade war of attrition drags on, global growth has started to cool in all parts of the world, not just among developed economies or the world's largest nations. That three central banks not considered part of the 'top tier' of central banks moved forth with aggressive, surprising interest rate cuts is a veritable 'canary in the coal mine': the negative impact of the US-China trade war is spreading beyond the borders of the world's two largest economies.
For some central banks, the mere act of lowering interest rates will also increase the appeal of their local currency; in doing so, the country's exports become more attractive to foreigners who now have more purchasing power.
But what has begun, in a sense, is a "race to the bottom," akin to what was seen during and after the Global Financial Crisis: to stimulate their economies, central banks loosen up credit availability by reducing interest rates in tandem. Because all central banks are cutting rates at the same time, interest rate differentials do not change; no competitive trade advantage is gained via exchange rates.
The Fed Rate Cut Cycle Will Be Aggressive
Rate cut odds remain frontloaded, even after the Fed cut rates. Prior to the July Fed meeting, Fed funds futures were discounting a 76% chance of another 25-bps rate cut in September and a 56% chance of a third and final 25-bps rate cut in December 2019.
Federal Reserve Interest Rate Expectations (August 8, 2019) (Table 1)
(Click on image to enlarge)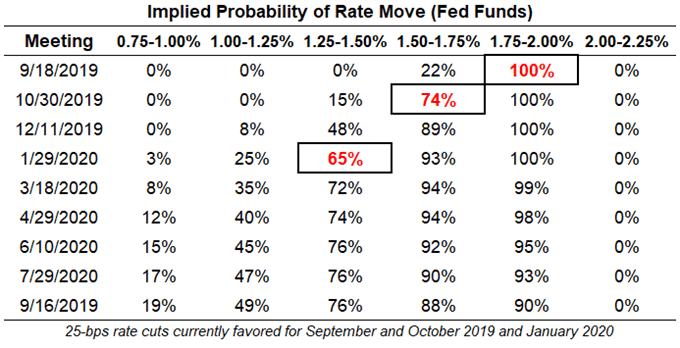 Now, according to Fed funds futures, after the Trump tariff announcement on August 1 and the ensuing USDCNH devaluation, there is now a 100% chance of a 25-bps rate cut in September, a 74% chance of another 25-bps rate cut in October, and a 48% chance of a fourth 25-bps rate cut in the cycle coming in December. There is a 65% chance of the fourth 25-bps rate cut at the January 2020 meeting; or, 100-bps in total in just six months.