US Dollar Strength Continues On Consumer Sentiment
The University of Michigan released their preliminary report on consumer sentiment for January, giving the first glimpse of consumer expectations and conditions for the year. The report showed little change in the headline figure from December, dropping marginally to 99.1 from the previous month reading of 99.3 which was also this month's expected figure. The US Dollar continued to gain following the report, building on momentum from a strong housing starts report which showed a 16.9% increase for the month of December. Recent day strength in the USD could follow through further as data in recent days has helped bolster the greenback.
DXY INDEX (30-MIN CHART)
(Click on image to enlarge)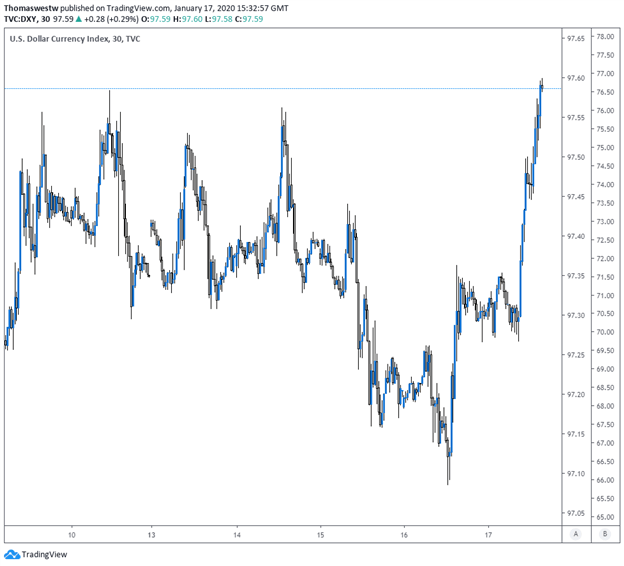 Current conditions in the survey increased slightly to 115.8 from 115.5, supported by an upbeat attitude toward household incomes. Gains in income were reported by 40 percent of households in the survey and households saw a net increase of 17 percent to their wealth.
(Click on image to enlarge)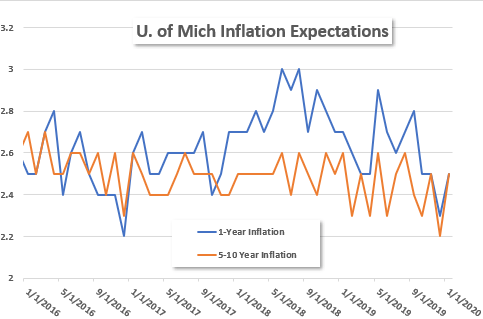 Giving insight into the Federal Reserves battle to lift inflation, expectations from consumers for short and long-term inflation ticked up in January after hitting a multi-year low last month. 1-Year and 5-10 year inflation expectations lifted to 2.5 percent, from 2.3 and 2.5 percent respectively.