US Dollar Sinks During Powell Testimony As Fed Rate Cut Odds Surge - Central Bank Weekly
Federal Reserve Chair Jerome Powell is on Capitol Hill on Wednesday and Thursday giving his semi-annual testimony to Congress. Kicking off in the House of Representatives in front of the House Financial Services Committee today, Fed Chair Powell laid the groundwork for a series of interest rate cuts over the coming months. Saying that "uncertainties since [the] June FOMC continue to dim [the economic] outlook," it's clear that a lack of progress in the US-China trade war talks is about to provoke Fed Chair Powell and the FOMC into a formal shift in monetary policy.
Fed Response to US-China Trade War is Expected
In an earlier update, we reviewed the different methods that the various major central banks could respond to the growing threat of trade wars. "For central banks like the Federal Reserve or European Central Bank, there is too much global reliance on the stability of asset prices in order to dramatically surprise market participants. Instead, these central banks move at a more glacial pace…if the Fed is going to get involved in trade wars, then it is highly likely that it will do so along the interest rate route." If a Fed rate cut as a direct result of the US-China trade war was in question, it should be fully answered today.
Fed Funds Pricing Three Potential Rate Cuts in 2019 (Again)
After the June US jobs report, interest rate pricing suggested that the odds of immediate, aggressive dovish action by the Federal Reserve was reduced. Ahead of the testimony by Fed Chair Powell, Fed funds futures were pricing in a 97.5% chance of a 25-bps rate cut and a 1.5% chance of a 25-bps rate hike in July. However, after he's spoken, there is now a 100% chance of a 25-bps rate cut, and a 28% chance of a 50-bps rate cut at the July Fed meeting.
Federal Reserve Interest Rate Expectations (July 10, 2019) (Table 1)
(Click on image to enlarge)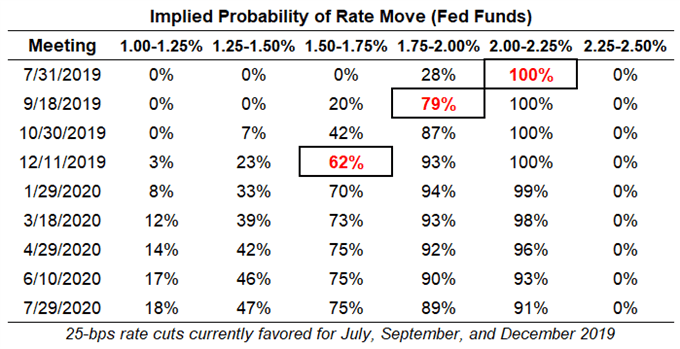 To this end, there is a 79% chance of two 25-bps rate cuts through the September Fed meeting and a 62% chance of three 25-bps rate cuts (totaling 75-bps) through the end of 2019.