US Dollar Pumps And Dumps, Stocks Surge As Markets Strike 'Powell Put'
Talking Points
The US Dollar's earlier gains around the December US Nonfarm Payrolls report were erased this morning after Fed Chair Jerome Powell spoke at the American Economic Association's Annual Meeting.
Fed Chair Powell's tone has changed numerous times in recent months, but the latest shift can be easily described as the 'Powell Put' being triggered.
Retail traders continue to sell the US Dollar, fading advances by EUR/USD and GBP/USD.
The US Dollar (via the DXY Index) has seen another wave of volatility hit markets today, thanks in part to competing messages from economic data and policymakers. Following the December US Nonfarm Payroll's report, the US Dollar was trading close to its highs of the week, with markets pushing back against the recent trend of rate cuts being priced-in for 2019.
However, whatever perceived implications for Fed policy from the jobs data were quickly clarified when Fed Chair Jerome Powell spoke at the American Economic Association's Annual Meeting this morning. The message was clear: future rate hikes won't materialize as quickly as previously anticipated, even if the economic data is not bearing out concerns for a recession at present time.
WHAT IS THE 'POWELL PUT'?
How do we know this? Look no further than how the DXY Index, the US S&P 500, and the US Treasury 10-year yield reacted after Fed Chair Powell said that the central bank was listening "carefully and sensitively" to the "market's risk concerns" and it could "shift the process" of balance sheet normalization if necessary, as there was "no preset path for policy":
DXY INDEX, US S&P 500, AND US TREASURY 10-YEAR YIELD PERCENTAGE CHANGE: 1-MINUTE TIMEFRAME (JANUARY 4, 2019 INTRADAY) (CHART 1)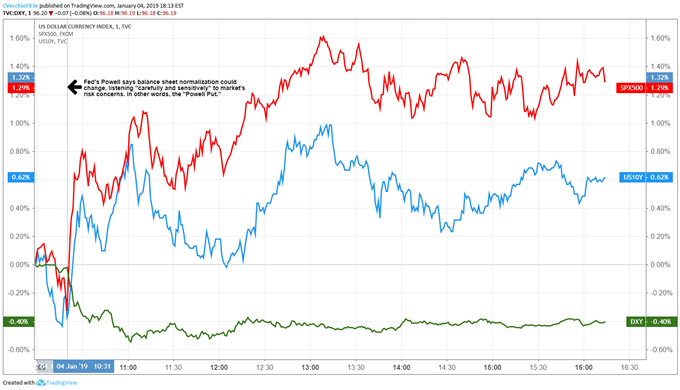 In a sense, the "Powell Put" was triggered this morning. The "Powell Put" is much like "Bernanke Put" or the "Greenspan Put" – that investors should feel comfortable owning stocks because the Federal Reserve will step in if losses mount too quickly (in contrast, the "Yellen Put" was that the Federal Reserve would act to prevent a quick rise in interest rates). The prospect of the Fed taking its foot off of the rate hike pedal has proven bad for the US Dollar and good for stocks.
Disclosure: Looking for longer-term forecasts on the US Dollar? Check out the
more