Us Dollar May Rise As The Fed Checks Slide In 2019 Rate Hike Bets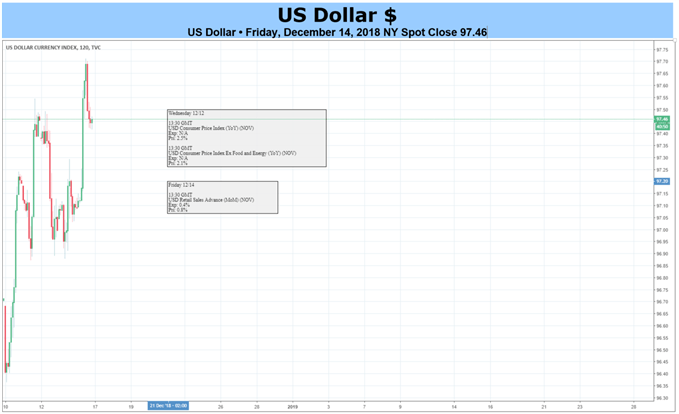 US DOLLARFUNDAMENTAL FORECAST: BULLISH
Fed policy pivot does not imply inherent bias, market moves notwithstanding
Focus on local data might aim to justify hikes despite darker global outlook
US Dollar may rise as recent dovish shift in priced-in policy bets is reversed
The US Dollar will be overwhelmingly pre-occupied with a single event in the week ahead: the FOMC monetary policy announcement. A rate hike is heavily favored, with the priced-in probability of an increase implied in Fed funds futures at a convincing 72.3 percent. To that end, it will be the accompanying forecast update and press conference with Chair Jerome Powell that offer meaningful direction cues.
FED POLICY EVOLUTION DOES NOT SIGNAL BIAS
Recent weeks have seen the Fed roll out an updated communication strategy, with a steady stream of official commentary signaling that the central bank is pivoting away from long-seeing forward guidance – a remnant from the post-crisis period meant to offer a sense of predictability to shell-shocked markets – to a nimbler approach dependent on near-term data flow.
The move seems like the direct extension of an earlier announcement revealing that staring in 2019, every policy meeting will be accompanied by a presser, instead of just four quarterly conclaves. When it was unveiled earlier in the year, it was interpreted as hawkish. The latest tone shift, by contrast, has been dubbed dovish. Both assessments seem mistaken.
Rather than conveying an inherent bias, these adjustments seem like natural fine-tuning for a central bank that is well enough along in its tightening cycle to ponder where "neutral" might be. This is the level at which policy is neither supportive nor restrictive and is notoriously elusive. Going past it unnecessarily may hurt growth but failing to breach it when appropriate may overheat the economy.
The Fed estimates the neutral setting is somewhere in the 2.5-3.5 percent range, with most FOMC officials favoring the median at 3 percent. Getting there implies three further hikes beyond this month's rise. That is conveniently in line with the rate-setting committee's projected 2019 path published in September. Yet still, the very mention of "neutral" by Mr Powell recently was seen as dovish.