US Dollar May Rise As Data Flow Drives Rethink Of Fed Policy Bets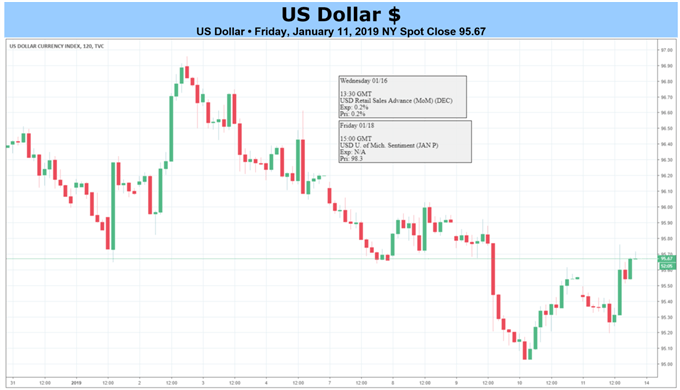 US DOLLAR FUNDAMENTAL FORECAST: BULLISH
US Dollar gains as Fed's Powell unpacks updated policy framework
On-trend core inflation clashes with dovish shift in rate hike outlook
Incoming news may fuel rebound as 'data dependence' is established
The US Dollar fell for a third consecutive week, succumbing to weakening yield- and haven-based appeal as priced-in Fed rate hike prospects fizzled while risk appetite recovered. Futures markets now predict the central bank will forego tightening altogether in 2019. Meanwhile, the bellwether S&P 500 index has climbed to the highest in a month.
A snapshot of weekly performance obscures what looks to be a critical change in the underlying fundamental narrative however. Markets have been taken with the idea of a dovish turn in the consensus view on the FOMC policy-setting committee for some weeks. Last week, Chair Powell seemed to ratify the idea that – while a change in posture has indeed occurred – this does not imply commitment to a directional bias.
POWELL CHECKS DOVISH TURN IN FED POLICY OUTLOOK
In fact, this seems to be the substance of the adjustment. In the decade following the Great Recession, the Fed sought to reassure markets with policy stability by telegraphing its moves well in advance. With the stimulus withdrawal process underway in earnest and the so-called "neutral" rate in sight, officials have moved into fine-tuning mode: dispensing with pre-commitment and adopting a nimbler approach.
Speaking at the Economic Club in Washington DC on Thursday, Mr. Powell spelled out in the clearest terms yet that this need not be inherently dovish. He once again acknowledged a plethora of potential headwinds including trade tensions with China, shaky European politics and the ongoing US government. Critically however, he asserted none of these have materially soured incoming economic data flow.
The Greenback offered a telling response, rising alongside bond yields as the priced-in policy path implied in Fed Funds futures edged away from recent dovish extremes. More of the same followed as December's CPI report underscored Powell's point on the very next day. The headline price growth reading ticked lower courtesy of a slump in crude oil, but the core measure held reassuringly on-trend at 2.2 percent.