US Dollar May Find Support As Global Outlook Worries Mount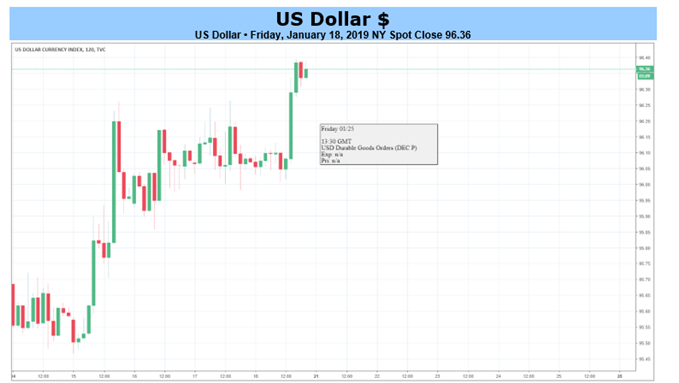 US DOLLAR FUNDAMENTAL FORECAST: BULLISH
US government shutdown sidelines data critical to Fed policy outlook
China GDP, Eurozone PMI, comments from Davos may spook markets
Beijing attempting breakthrough in US-China trade war negotiations
US Dollar price action has mostly reflected broad-based sentiment trends rather than homegrown fundamentals since November. The currency has been remarkably resilient despite the collapse in Fed rate hike bets. It hit a 20-month high amid a vicious late-2018 market rout before pulling back as risk appetite steadied. That speaks to a strong anti-risk appeal, which is likely rooted in USD's unrivaled liquidity.
The Fed has been tinkering with its messaging in the meanwhile, dispending with the kind of longer-term guidance that defined policy in the aftermath of the Great Recession and pivoting to a nimbler, data-dependent approach. The markets initially saw the shift as dovish – small wonder that, considering the prior regime's hawkish bias – but seemed to finally on-board the central bank's intent ahead of last week's trade.
While that might have set the stage for greater directional clarity, this was not to be as the US government shutdown derailed the release of critical pieces of economic data that ought to have informed policy speculation. What did arrive from private-sector sources looked ominous. The University of Michigan said its consumer confidence gauge unexpected dropped to a 26-month low in January.
CHINA AND EUROZONE DATA, IMF FORECASTS MAY SPOOK MARKETS
With the US government seemingly no closer to resuming key statistical reporting, the week ahead will probably keep the spotlight on macro-level forces. Monday's release of Chinese GDP data as well as an updated set of economic forecasts from the IMF will inform worries about a global slowdown. Thursday's Eurozone PMI surveys will expand investors' view of the global business cycle further.