US Dollar 1Q 2021 Forecast: Safe Haven Status Versus Fading Growth Position
IMF GLOBAL GROWTH PROJECTIONS FROM OCTOBER 2020 UPDATE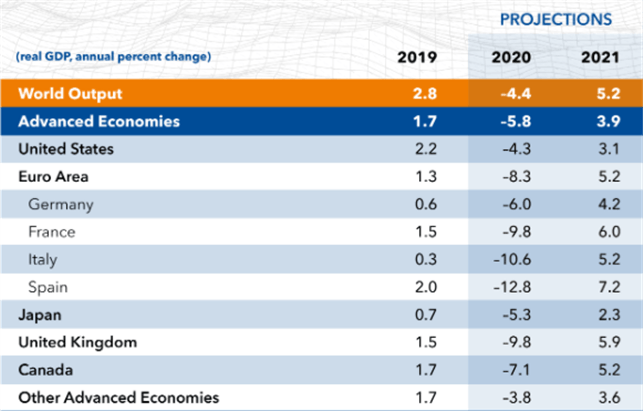 Table from the World Economic Outlook Report
RECONNECTING THE US TO THE REST OF THE WORLD
If the United States once again positions itself as the epicenter for global trade and economic activity, it can at least slow the relentless drive to diversify away from the Dollar's singular influence. That said, I do not believe it would totally forestall the shift. The Greenback's ubiquity as the principal reserve and unit of exchange confer critical benefits upon the currency should global risk trends improve and lift this leading component or collapse and enforce the safe haven role. Another consideration in this central perspective is major counterparts' efforts to safeguard their own financial and economic health. Policymakers in most of the major economies whose currencies stand as principal counterparts to the Dollar have remarked over the second half of 2020 that their currencies' strength was excessive and unjustified. The inference is that their currency should be weaker and the Dollar stronger. For those that think this is just the lament of emerging markets or the likes of the Japanese Yen, I will remind that the ECB connected a massive stimulus influx to keeping EURUSD below 1.1400 back in spring 2014. They were successful...
CHART OF EURUSD (MONTHLY)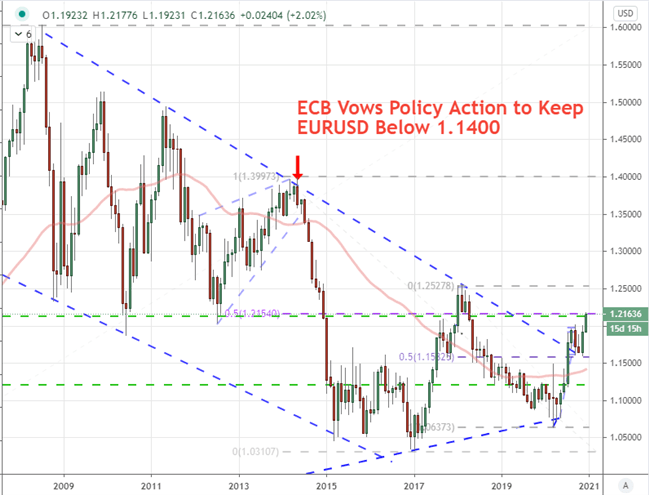 Chart Created with TradingView
STABILITY IN THE FINANCIAL SYSTEM AND THE NEED FOR LIQUIDITY
Perhaps the most influential yet unpredictable aspect to the Dollar's performance moving forward is the state of global risk trends. All of the preceding analysis is predicated on the basis that sentiment is at least steady if not continuously improving. If, on the other hand, speculative appetite collapses, the Greenback's role will change dramatically. Though the marginal standings of the currency and its economy have slid over time with circumstance and policy, it still represents the most heavily utilized reserve by central banks and major market participants around the world. When financial concern turns into outright fear over the safety of funds, demand for liquidity becomes the singular drive.
Disclosure: See the full disclosure for DailyFX here.